Toy News and Reviews
Hellboy Movie Toys
PART ONE:
Hellboy in Trenchcoat
and Sammael
Initial Thoughts
As a big fan of Hellboy, I've been looking forward to this toy line almost as much as I've been looking forward to the movie they are based on. And they do not disappoint.
Mezco has grown into an impressive company. They quickly put behind themselves the mess that was Underworld and focused their energy on bigger and better things. The Dark Carnival and Gangsters lines both look great, and the Hellboy toys look even better. We'll begin this review with the first two figures in a six-figure lineup: Hellboy and Sammael.

Packaging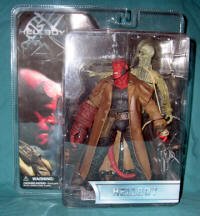 Mezco has jumped on the clamshell-packaging bandwagon, along with everyone else. Attractive, clean packaging that makes even the most nitpicky MOCer happy.
However, the openers (like myself) hate how hard it is to get into these clamshell cases. But that's a small hurdle to get to some great toys.
The insert card is well-designed. The BPRD logo is eye-catching. Nothing jumps out at you, but since this is a specialty market line, they don't need to attract the casual viewer.
On a scale of 1 to 5, the packaging gets a 4. Sure, it gets the job done — but the simple insert should offer more. A list of future Mezco lines or more information on Hellboy could easily have been included inside. And aside from the sticker on the front there are no other differences from figure to figure.

Sculpt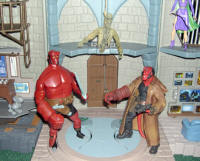 Perfect. There is no mistaking that this is Mike Mignola's Hellboy, but it also looks like Ron Perlman as Hellboy.
The detail is great, from the BPRD logo on his coat to the cracked stone texture of the Right Hand of Doom. Hellboy's face is sculpted in his trademark grimace — if only he were chomping on a cigar! — and if that's not your style, there is also a variant headsculpt of a calmer Hellboy. The soft plastic trenchcoat blends perfectly with the body. It was definitely the superior option over cloth.
Sammael looks just as perfect. Well-detailed skin texture all over; even the inside of his jaw is textured! Sam's a big, heavy figure sure to please any fan. The soft dreads coming off the back of his head don't hinder the articulation, and actually add more movement to an already impressive sculpt.
Both Hellboy and Samuel get 5 out of 5 in the sculpt department.

Articulation
Mezco has managed to combine great sculpting with effective articulation. You get great-looking toys you can actually play with!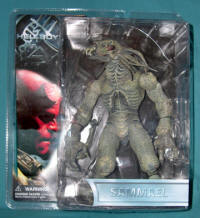 Hellboy features an impressive 20 points of articulation, including ball joints at the hips, shoulders, neck, and right hand, plus 3 points in his tail!
Sammael has a whopping 24 points of articulation. He can't crouch on all fours like I want him to, but he can sit down.
Though not excessively articulated, these figures are well-articulated enough to be highly play-friendly without detracting from the sculpt. No preposed staues here.
For an impressive turnout, Hellboy receives 5 out of 5, while Sam gets 4½.
Paint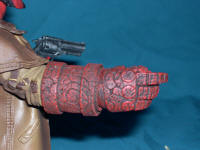 Amazingly enough, I have nothing bad to say here either. Both figures have multiple paint apps and washes and no slop.
Hellboy's colors are consistent and bright. The darker wash on the coat is effective, while the wash on his right hand is perfect. Every little detail is touched upon, from his belt buckle to the dirt on his shoes.
Sammael, while just one color, is washed and highlighted effectively enough to keep him visually interesting. His eyes are perfect, and though his skin is matte, his eyes and mouth are just glossy enough to appear wet.
For paint, both figures receive 5 out of 5.
Accessories
Sam: Nothing. No base, no weapons — nothing. He doesn't need any. And as massive as he is, there's no room for anything in the package but him.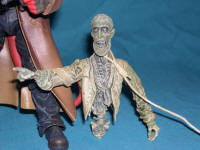 Hellboy: Two, his gun and half a zombie corpse. What a gun it is — well-sculpted, well-painted, and it even folds open to reveal the chamber. And the corpse is great, too — well-sculpted and even features 3 points of articulation. He comes with a noose around his neck that Hellboy can use to carry the corpse around on his back.
Sammael gets 0 out of 5, while Hellboy receives all 5 points here.
Price
Suggested retail price is $10-15 and at any price in that range, they are a great deal. Look for these figs soon at Heroes and Dragons!
Overall
Two impressive toys from an even more impressive line. The rest of the line includes Abe Sapien, Hellboy without his coat, Rasputin with Baby Hellboy (i.e. "Hellboy Junior"), and Kronen. Both Hellboys have variant head sculpts (calm and angry), and there are Diamond exclusive versions of Abe and Hellboy. (Diamond's Hellboy is battle-damaged with full horns.) As a companion piece, there is also an 18" Hellboy (and another exclusive version of it at Tower Records). Expect a review those figures in part 2 of our look at the Hellboy movie line.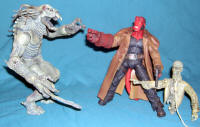 I'll give Hellboy the full five stars. I really like him. Well-sculpted, accurate to the source material, and a great toy (you can play with him).

Sammael only gets a 4. Still a respectable score, and he's still a great toy — but compared to Hellboy, he seems a little lacking. And he's the short-packed figure of the wave, at only one per case. Probably a good choice, since he may not be the most popular of the line — but with a line this great, even the worst figure is leaps and bounds above the competition.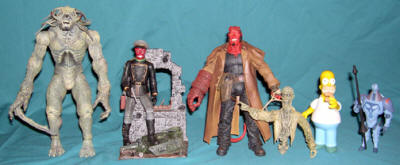 Scale comparison of Hellboy and Sammael
And Now for This Week's News ...

The rumors that have been circulating about the end of Playmates' World of Simpsons line appear to be true. The Playmates license to produce Simpsons merchandise expires at the end of this year. Chances are that Series 16 will be the last full series, but there may be a Treehouse of Horror 5 wave and possibly a few extra exclusives. More on this as it develops.
McFarlane Productions' Clive Barker's Infernal Paradise line is no longer Tortured Souls Series 3. It is now a separate line, and the Tortured Souls line will be continued later.
Special Lord of the Rings figure of Peter Jackson as a Hobbit! Click here for a peek.
Vote for Hasbro's Star Wars Fan Choice Figure #6 here. All the choices will be repackaged figs, but it's a great chance to fill a hole in your collection.
And I've got my fingers crossed that someone will make toys for both Kevin Smith's Green Hornet film and Robert Rodriguez's adaptation of Sin City!
See you next week! Same toy time! Same toy channel!
Got a question? Want to request a review?
Have a complaint? Want to send me free toys?
Have news to share? Whatever?