Toy News and Reviews
Spawn Series 25: Classic Covers II
Spawn
Hellspawn
Sam & Twitch
Raven Spawn
Redeemer
Welcome back, toyboys and toygirls! The Toyman has returned with your weekly dose of toy reviews and news.

This week's review is Spawn Series 25: Classic Covers 2 — the most recent release from Todd McFarlane Productions. This six-figure series has just been released, and like the previous 24 series is flying off the shelves. Only five of the figures are being reviewed today. The sixth, The Creech, is the boxed set for the line and is running about a week or two behind the regular series.

The series consists of Spawn (from the cover of Spawn # 95), Hellspawn (from Hellspawn # 5), Sam & Twitch (Sam and Twitch # 26), Raven Spawn (Hellspawn # 11), and the Redeemer (Spawn # 117).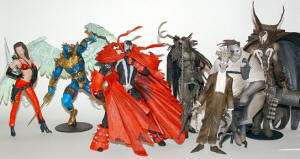 Initial Thoughts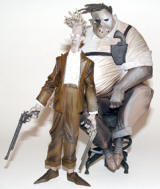 As always, if you are a fan of McFarlane toys, you will not be let down. This series's Spawn is a great representation of an iconic character. The Redeemer is an impressive redesign of a popular Spawn character. This new Hellspawn is an improvement over the last one, and Raven Spawn is a great representation of the character.
And finally we have a new Sam and Twitch. They are fantastic! We now have a Twitch that is dwarfed by the massive size of his partner. Ashley Wood's art translates perfectly to plastic in the Sam and Twitch, Hellspawn, and Raven Spawn figures. I am not a fan of Wood's artwork at all, but when his designs are translated into plastic, they make for impressive toys.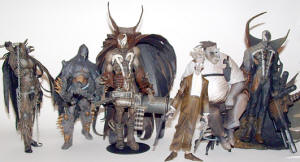 Packaging

McFarlane continues in their use of plastic clamshell packaging with this series. It all looks great and shows off the figures nicely.

Being the only colorful characters in the line makes Spawn and Redeemer stand out on the pegs long enough to drag you in to purchase the rest.
I do wish someone would create an easy-to-open clamshell (similar to what DC Direct did for a short time), but for now the MOC collectors can be happy with sturdy packaging while the openers get to hack away with X-Actos and scissors.

Sculpt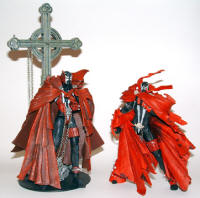 These figures are perfect. McFarlane stays on top after a slight drop off the last few series. It seems Todd is still finding high-quality sculptors to replace all the ones that ran off and started their own companies.
The Spawn figure is a perfect representation of the artwork from the series. His cape is sculpted to capture the dynamic motion of his pose, a pose that commands attention. The figure under the cape is not a dramatic improvement over the last few Spawns and actually looks very similar to the Series 20 Spawn. For that, he gets 4 stars out of 5.





At first glance, this Hellspawn looks like the last one with a new cape and gun. Nothing could be further from the truth. A vast improvement over that last Hellspawn, this one is more menacing and looks even more like Ashley Wood's artwork just stepped off the page. The level of detail on his gun, his face, and his hands is amazing. 5 stars out of 5!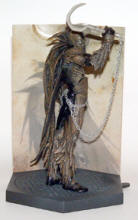 Raven Spawn's pose may be the dullest of the bunch. Yes, the level of detail is still there, but the character just doesn't look as dramatic standing next to the rest of the wave. And he is so much smaller than the rest that it almost seems like there should be more to him. So Raven just stands there, trying to look menacing while receiving his 3½ stars out of 5.





Sam and Twitch are also great sculpts. (It's hard to say anything different about this batch of toys.) Sam is perched on a small stool, chain-smoking while his partner stands in front, fingers "twitching" at his twin revolvers. Twitch is perfect. From the fly-away hair to the characteristic lean to his pointed feet, Twitch looks like Twitch. Both Sam and Twitch get 5 stars each.





The Redeemer is the stand-out figure of the line. His pose is beyond impressive — arms outstretched, wings spread, ready to attack. Every feather is there, sculpted realistically enough that you almost think he could fly. His armor is well-engraved, and his muscle tone is well-captured. If I could give him more, I would, but Redeemer gets 5 stars out of 5.







Articulation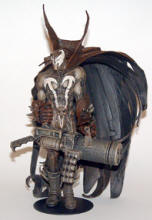 McFarlane's never been known for a high level of articulation in their figures. Their toys are rarely more than minimally articulated statues, and this line is no exception.
Spawn has the most points of articulation, with 11. Hellspawn and Raven Spawn each have 8. Redeemer has 7. Twitch has 7. And Sam has an amazing 3!
All the expected articulation is there. Cut joints on the legs and ankles mostly. Minimal arm articulation and a few necks. Sam is the worst. He just sits there on his stool.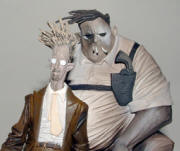 You can adjust his feet and his right arm.
The entire series gets 3 stars out of 5 in this category. One day, McFarlane may start to surprise us in the articulation department, but today's not the day. I've had high hopes since the 10th Anniversary Spawn, but I've been mostly let down ever since.
Paint





Paint apps throughout are well done. The washes on Raven Spawn, Hellspawn, Sam, and Twitch look great. All the colors are consistent.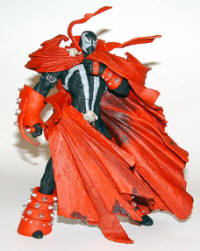 The main problem seems to be around Sam's eyes. He looks like he has two black eyes. They are too dark and could have used a little more definition. For a group of mostly brown toys, there is a lot of variation in color between them.
The Spawn is well-painted. There is a little slop around the spikes on his gauntlet and boot, but that is countered by the fact that they are finally painted silver instead of grey. The red also seems very bright compared to some other Spawns, but that is also a reflection of the line as a whole. This Spawn is a bright splash of red in a dull palate.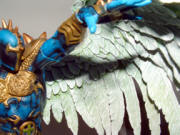 The Redeemer is the stand-out of the line in regards to paint. His bright blue-and-gold armor is well-painted, has clean lines, and is topped with a well-executed black wash. His bright white wings are highlighted with a green wash. The green wash is a little heavy on some figures, so be sure to find one you like the looks of.
The entire line receives 4½ stars for paint. They are almost perfect, but some minor imperfections and inconsistencies from figure to figure keep them from being perfect.
Accessories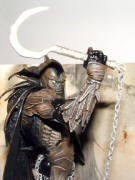 Each figure comes with a reproduction of the cover artwork it is based on. There is also a base for each cardboard "cover."
Raven Spawn comes with McFarlane's latest rotating base and a cardboard backdrop. He also has a sickle on a chain connected to his waist.
Spawn has the same base. If you have picked up any recent Spawn toys, the base has not changed. Pull the lever on the side, and the figure rotates — nothing too exciting.
Hellspawn has a small disc for a base and comes with a massive hand cannon. Twitch has both revolvers. And Sam has his stool. Not really an accessory, since he can't sit without it, but I'll count it anyway. Redeemer also has a base and a sword.
As far as accessories go, we should have more. The set gets a 3 out of 5 for
accessories.
Character-specific bases would have been nice. If Sam's gun had been a separate piece, that also would have helped.
Price
At $11.95 each, there's no surprise with these figures. We have all become accustomed to the typical McFarlane price point.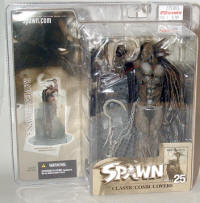 Sam and Twitch and Redeemer are well worth it. Both are crammed in their bubbles with little room to spare. Hellspawn and Spawn are almost
worth it. And at $11.95, Raven Spawn is a little overpriced. Just because he's smaller doesn't mean cramming the card full of rehashed accessories makes him worth it.
Overall





Another stand-out line from McFarlane Toys. If you liked past series, you will like these. If you are looking for something new, try Mezco or Neca.
There are a few variants in this line. There is a variant (mass market) head for Raven Spawn, and he comes with a different weapon. There is also a variant Sam (also mass market) with his cigarettes carved down to look like
toothpicks.
Spawn Series 25 as a whole receives 4 out of 5 stars from the Toyman. A great buy that will please even the pickiest Spawn fan.
And Now for This Week's News ...

It has been a slow news week, but two highlights are:
McFarlane Monsters Series 3: Faces of Madness is finally revealed (sort of) at Spawn.com.

Diamond Select has taken over the Buffy license from Clayburn Moore. Moore will still be involved in the sculpting.
That's it for this week, toy fans. Tune in next week for a review of Kingdom Come Series 1-3.
Feel free to ask questions, suggest a
review, or share toy news with the Toyman!