Toy News and Reviews
DC Direct's
Kingdom Come
Series 1-3
Welcome back once again, toy fans! The Toyman has had all his wisdom teeth removed, but that canít stop him!
This weeks review is the long-awaited (and anticipated) review of DC Direct's Kingdom Come Series 1-3. DC Direct made many a fan boy happy with the first set of figures based on Kingdom Come ó a story often regarded as one of the greatest works of comic book mastery. Who would have thought we would have received three fantastic sets?
Should we hope for a fourth? Whereís Norman and the Spectre?
Can I make it through this review before the pain pills kick in?
Find out now!


The Whole KC Line to Date ó Click for a Larger Image
What would any modern toyline be without an exclusive figure? DC Direct offered Red Arrow as a mail-in exclusive from Toyfare magazine ó we'll give him the Toyman's once-over at the end of this installment.
---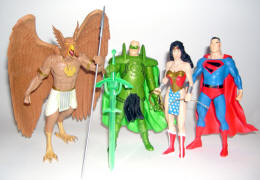 Letís start the review with Series 1:
Initial Thoughts
As a big fan of Ross and Busiekís mega-hit series, I was one of the legions of fans begging DC Direct for Kingdom Come toys. When the first series was announced, I couldnít have been happier.
Hawkman, Green Lantern, Wonder Woman, and Superman were the initial line-up. What a great beginning! Start with the biggest icons of the series, and do them right. Tim Bruckner, DC Direct's sculptor extraordinaire, pulls out all the stops and delivers perfect likenesses.
Packaging





The packaging is great. It showcases each figure nicely and really stands out on the shelf. The series' cover art is well-used on each package, and the packages themselves are extremely collector-friendly. The figures could easily be removed from the package and placed back in them for display.
The packaging gets 5 stars out of 5. It looks great, is well-executed, and is something completely different for the series. The Kingdom Come series gets the royal treatment that figures like this deserve.
Sculpt





The sculpts are dead-on likenesses of the characters. The muscle tone is realistic and well-defined. Hawkmanís feathers are intricately detailed. And everyoneís capes look like they are flapping in the wind. These figures are Alex Rossís art come to life.
There is, however, a problem: Some of the joint lines donít match up quite right. Apparently it was a big problem, because the series was delayed repeatedly as DC Direct tried to repair some of their mistakes. Supermanís neck is the worst joint, but with a little hunting, itís possible to find one that looks good.
The entire series would get 5 stars out of 5, but since somehow DC Direct improved on the next batch (Series 2), Iíll give Series 1 an across-the-board 4.5.
Articulation





DC Direct is not known for its articulation. Sure, they can do it ó and have done it. The first series of Modern Superman figures proves that. But in a case like this, sculpt is more critical than massive articulation.
Superman and Wonder Woman each have seven basic points of articulation (hips, shoulders, wrists, and neck); Green Lantern and Hawkman lose the leg articulation due to their sculpts (although Hawkmanís wings are hinged on his back).
The figures are posed in typical Alex Ross fashion, and the limited articulation still allows for enough movement to pose them dramatically on the shelf. 4 stars out of 5.
Hawkman has a serious problem leaning forward, and additional articulation on him would have helped the score.
Paint





The figures (like most DC Directs) are painted flawlessly. The colors are all solid, with no slop. Hawkman has some dryer work to add texture to his feathers. And everyoneís eyes are straight and level.
The only fault to be found is with Green Lantern's armor details. Instead of being painted on, they are stickers ó stickers that donít stick all that well and usually need a little adjustment.
Superman, Wonder Woman, and Hawkman get 5 out of 5 for their paint. Green Lantern Alan Scott gets only 3 points. The stickers were a truly horrible idea on someoneís part.
Accessories





The accessories are minimal with all the Kingdom Come figures. Hawkman has a spear and his medallion; Green Lantern has a sword; Wonder Woman has her lasso; and Superman comes with nothing. There arenít a lot of possible accessories to accompany any of these figures, and considering how massive they are, Iím impressed that any were included at all.
So for accessories, they get 3 out of 5.
Price





DC Direct figures arenít cheap. They are high-quality toys with limited availability and small production cycles. They average $15-17 but are well worth it. Where else would we get figures like this?
So between the dent they put in your wallet and the smile they put on your face, the Kingdom Come figures average out to 4 stars out of 5 on price.
Overall Playability





These are collectible toys, no doubt about that ó but they are still toys. Sure, they canít pass the sitting test, but they are sturdy, well-made toys. Overall, Kingdom Come Series 1 gets a 4.5.
Why not a 5? Youíll see in a minute ... .
---
And now for Series 2:
Initial Thoughts
A great line continues! DC Direct listened to the fans and delivered the overlooked candidates from Series One: Shazam Captain Marvel and Batman! Red Robin and Kid Flash round out the series perfectly, and the Toyman's Kingdom Come shelf is looking better already.

Packaging





The packaging is identical to the first wave, but features both waves on the back. The packaging still gets 5 out of 5. No need to change whatís already perfect.

Sculpts





Once again, the sculpts are dead-on. Captain Marvel looks ready to kick butt and take names, Batman is amazingly menacing, and even Red Robin and Kid Flash manage to look interesting.
DC Direct continues to impress. I am beginning to wonder when Tim Bruckner gets to sleep, though. All are well-sculpted, and DC Direct continues delivering innovative sculpts by combining multiple types of plastics. In this case, they've managed near-perfect recreations of Alex Rossís paintings. 5 out of 5 just for Batmanís perfect smirk.
Articulation





This batch is even more articulated than the first. Not much more, but they are better.
Shazam clocks in at nine points of articulation, as does Batman (11 if you count his wings). Red Robin has seven, but Kid Flash has the basic five. Since the line has improved with Series 2, and mostly due to the perfect pose that can be achieved with Shazam, this wave earns 5 out of 5 for articulation.
They still arenít Marvel Legends, but let's not compare apples and oranges just yet.
Paint





Another flawless batch of painted figures. Still no slop, and everything that should be straight is.
5 stars out of 5.
Accessories





Something had to go wrong from Series 1 to Series 2. Somehow Series 1 had more accessories. Kid Flash has a base (necessary to get her to stand up), and Batman comes with his gauntlet ó but that's it for Series 2.
For this oversight, Series 2 gets 2 stars out of 5.
Price





Same as Series 1, although with two somewhat smaller figures, they almost seem a little pricy. Still canít go wrong, though, so they get the same 4 out of 5.
Overall Playability





Still collectible toys, but even more entertaining as the recreated Kingdom Come Universe grows larger. We may never have the entire KC Universe, but with another wave to go, weíre getting close.
Series 2 gets 4.75 out of 5. So close to perfection; can Series 3 do it?
---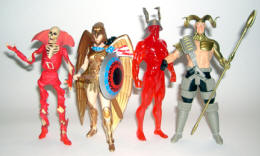 And finally, Series 3:
Initial Thoughts
Can it get any better? Finally we have Magog, Flash, and Deadman.
We also have another Wonder Woman. Why? There was nothing wrong with the last one, and yet this one looks ten times better.
Packaging





The packaging still hasnít changed with Series 3. It still perfectly accentuates the figures and still receives 5 stars out of 5.
Sculpts





Another perfect batch of sculpts.
Magog is fantastic. From the scar on his eye to the curl of his horns to the popping veins in his arm, he couldnít be any better.
How does someone sculpt a figure of a character who doesnít hold still? DC Direct has the answer with the Flash. His sculpt is dead-on, and the look they achieved by casting him in translucent plastic is extraordinary.
Deadman looks ultra-delicate, but nothing could be further from the truth.
Wonder Woman looks ready to deliver a beating and almost makes buying the Series 1 Wonder Woman unnecessary. (Almost, but not quite.)
Series 3 gets another perfect score of 5 out of 5.
Articulation





Still no big surprises in the articulation department.
Flash has five points of articulation; Magog and Wonder Woman have seven each; and Deadman has five ó no, wait, six! Thereís the surprise: Deadmanís jaw is hinged! This delicate-looking sculpt has the perfect articulation!
Just for Deadman's jaw, Series 3 gets the full 5 stars.
Paint





Still flawless, Series 3 has everything the first two had.
Magog is great. His skin looks organic; his metalwork looks like metallic. Deadman looks like bone, and his deep cavities look hollow even if they are not. And while only the Flashís helmet is painted, his appearance is perfect. Even Wonder Womanís armor is more than one gold color.
5 out of 5 once again!
Accessories





No surprises here either. Magog has his spear; Wonder Woman has her shield and spear. Thatís it. Deadman has a base, but that doesnít make up for anything.
Still canít go higher than 3 out of 5 here.
Price





Priced similarly to Series 1 and 2, Series 3 seems like a better bargain, just for character selection. They get the same 4 out of 5.
Overall Playability





Now that the Kingdom Come shelf is full, what more could we ask for? Series 3 gets 5 out of 5 stars, just for being better than the last two series.
Can we hope for a fourth series? Of course we can! But like anything else, until we hear it from DC Direct, any rumors of more figures are just that, rumors. Iíve got my fingers crossed for Norman McKay, the Spectre, and a half-dozen other of my favorite characters.
---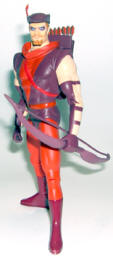 And now for the bonus review ó
Exclusive Red Arrow from the Kingdom Come line:
Red Arrow was released between Series 1 and Series 2 and is a straight repaint of DC Directís Green Arrow figure. And for a simple repaint, heís perfect! Articulated more than the rest of the line, Red Arrow has 11 points of articulation. He also comes with his bow ó certainly not one of DC Directís better bows, but suitable. Heís well-painted, but there is a little slop on some edges. (It is a lot harder to find a good paint job on mail-away figures.) He is packaged in the same manner as the rest of the line and is a fine representation of the character. Heís a great addition to the line if you can find him.
4.5 stars out of 5.





---
Thatís all for this week, kiddies. Itís been a slow news week, and Iím off to bed to continue recuperating.
Iím still looking for more questions to start a Q&A section in my column, so feel free to send your questions, request reviews, or just spread toy talk.
See you next week!
Feel free to ask questions, suggest a
review, or share toy news with the Toyman!