Toy News and Reviews
Marvel Mini-Mates
Series 4 and 5
Welcome back once again, toy fans! This week, yours truly, the Toyman, will be reviewing the newest releases from Art Asylum and Diamond Selectís Marvel Mini-Mates lines.
Series 4 features three two-packs:
Unmasked Spider-Man and Doc Ock

Spider-Man and Gwen Stacy

Battle-Damaged Daredevil and Bullseye
Series 5 features:
Juggernaut and Civilian Logan

Thing and Dr. Doom

Absorbing Man and Captain America
And, as always, there are chase two-packs as well. The Series 4 chase is Unmasked Daredevil and Bullseye, while the Series 5 chase is the Thing and Unmasked Dr. Doom. This line has proved amazingly popular and hopefully the future DC line will be just as great.


Series 4 and 5 Complete Line-Up ó Click for a Larger Image
---
Initial Thoughts
What are these ó little toys with a massive amount of play value? How is that possible? It is impossible to pick up a Mini-Mate and not play with it. They are infinitely posable, easily balanced, and everybodyís favorite Marvel characters are either available now or will be soon. And have I mentioned how addictive they are? You canít stop with just one.
Art Asylum started their Mini-Mate line with larger-scale Mini-Mates based on rock stars, Star Trek, Crouching Tiger, and other popular properties. With the Marvel line, the figures got smaller but didnít lose any of their fun. And with the future Lord of the Rings line, Art Asylum has made the Minis to make anyone happy.
Packaging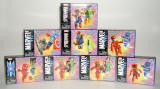 After the first three regular carded waves of Mini-Mates, the packaging has changed. We received a preview of the new packaging on the Professor X and Magneto set, as well as on the Giant-Size X-Men set. The Mini-Mates now come in a small sealed box, with action shots of the featured figures on the front. Initially, when the packaging change was announced, I was a little skeptical ó but now that Iíve seen it in person, I really like it. Sturdy boxes, bright graphics and easily identifiable characters. Even the variants are well labeled.
The figures are encased in an inner bubble, which is incredibly collector friendly. If the desire strikes you, the Mini-Mates could easily be placed back into their boxes. Sure, MOC/MIB collectors canít see their new figures ó but they can drool over the box. 5 stars out of 5!
Sculpts






Like all mini figures, Mini-Mates feature their own basic body style. That body style is then modified with add-ons to create the desired character. The basic body is very simple, and most of the character representations come across in the paint jobs. Belts, hoods, capes, hair, and the occasional accessory are about as elaborate as the sculpting gets.
I really canít give a score on sculpt. The basic body is great, there is no mistaking the characters, and they did sculpt some massive hands for the Thing.
I take it back. For sculpt, the Mini-Mates get a 5!
They arenít overly detailed statues, but they arenít supposed to be. Love them or hate them, the Mini-Mates have style, and they couldnít do that if the basic body sculpt wasnít sound.
Articulation





14 points of articulation on every Mini-Mate! Thatís an amazing amount for a figure thatís only 2 inches tall. None of the add-ons get in the way, there are no stuck joints, and you can mix and match parts to create your own characters.
That was an easy decision. 5 stars out of 5, yet again.
Paint





The paint applications on figures like these can really make or break them. The paint jobs make these figures! All the lines are clean, the colors are consistent, and even the basic details are perfect.
The rock texture on Thing and Absorbing Man looks great, and Battle-Damaged Daredevil actually looks like he hurts.
Their expressions are great, as well. From Daredevil's blind eyes to Loganís snarl and Doomís scowl, everybody looks appropriately emotional.
They just keep packing a lot into a tiny figure. 5 stars out of 5!
Accessories





Accessories, too? You betcha!
Captain America has his shield, Absorbing Man has his ball and chain,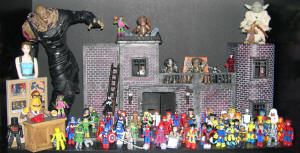 Doom has his cape, Spider-Man has his webbing, Daredevils has his billy clubs, and Bullseye has his knife. For some reason Daredevil has one club and Bullseye has two knives on the box. Inside the box, itís completely the opposite. (However, if you can find the chase set, at least one of your Bullseyes can have two knives.)
Even Juggernaut has a separate hairpiece to put on his head when you remove his helmet. And letís not forget Doc Ockís tentacles (which technically add another four points of articulation).
5 stars out of 5 again. Every accessory is almost like a little bonus. They are spoiling us, making these figures this much fun.
Price





$6.99 at the Dragon. Thatís the SRP, and itís completely fair. These little toys pack a lot of punch in a little box, and they wonít tug too hard at your wallet.
Considering that most mini-figs run in the $4-6 range, $3.50 each is a great deal. I would have paid more, and for as much enjoyment as Iím getting out of these little buggers, they get another 5 stars.
Overall Playability





A perfect score! 5 stars out of 5.
These are great toys!
---
Another slow news week:
McFarlane Monsters 3 exclusive Club accessory pack revealed! Click here for a peek!
McFarlane Toys has secured a licensing agreement to produce figures of Wayne Gretzky. See the press release here.
Star Wars Unleashed Clone Trooper variation revealed! Click here for a glimpse.
Thatís all for this week, kiddies.
Next week: MUPPETS SERIES 7!!

See you then, toy fans ó same toy time, same toy channel!
Feel free to ask questions, suggest a
review, or share toy news with the Toyman!