Toy Fair 2004 Pics
Check out these pics from the New York City and London Toy Fairs. Click on the images for larger pictures (where available).
Good News for Fans of DC Direct
DC Direct's JLA line will add long-anticipated figures
for Firestorm, the Atom, and Elongated Man:
And a DC Direct Adam Strange!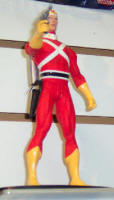 DCD will also launch a new Teen Titans line, starting with
another long-anticipated figure — Deathstroke the Terminator!
Other figures (shown here) include Wonder Girl, Robin, and Blackfire.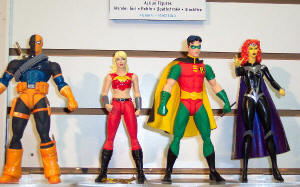 In addition to the already-announced figures for Wave 1
(Batman, Captain Marvel Wonder Woman, and the Flash),
DCD announced the line-up for Wave 2 of their
"Famous First Appearances" figures.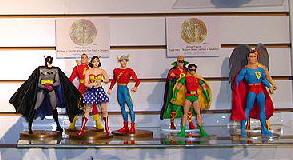 Wave 2 figures include:
Robin, Green Lantern, Superman, and Hawkman (!)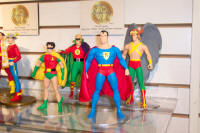 "Reign of the Supermen":
Superboy, Eradicator, Black-Suited Superman, and Steel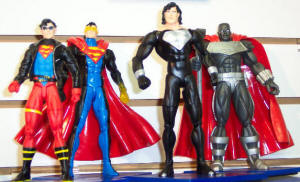 Superman Pocket Heroes:
Steel, Supes, Lois Lane, Lex Luthor, and Jimmy Olsen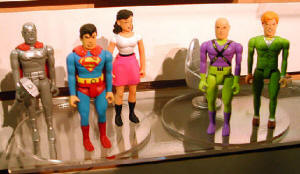 TV Teen Titans!!! maquettes: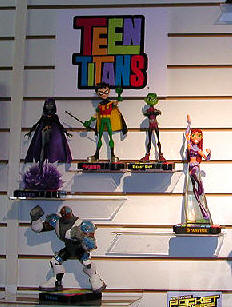 More DC animated maquettes,
including a Fleisher-style Superman and Lois: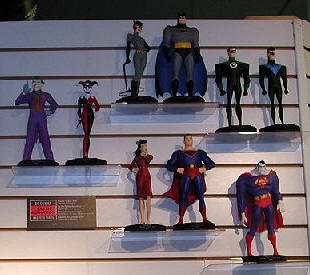 ---
Marvel Legends Madness
Not separated into waves, here are glimpses
at the 2004 Marvel Legends figures.
A Classic (Johnny Blaze) Ghost Rider starts us off,
along with the shambling monster known as the Man-Thing.
This year's X-Men figures include:
Classic Wolverine (in the brown suit) and Logan as Weapon X
Jean Grey as Phoenix
(with a variant Dark Phoenix in the background):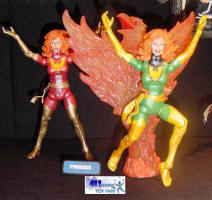 Storm and Iceman:
Merc-with-a-mouth Deadpool — packaged with X-Statix's Doop!
X-baddies Apocalypse and Juggernaut:
Flash back to the ' 90s with these two Cable figures:
Marvel movie stars! Thomas Jane as the Punisher
(from the upcoming movie) and a Marvel Comics Dr. Octopus
(just in time for Alfred Molina to play him in Spider-Man 2):
Our first modern Iron Man figure in recent years — wearing
the current suit of armor designed by Oscar Jimenez — and a
blast from the past, the red-and-silver "Armor Wars" suit.
More Avengers figures!
Hawkeye, the Vision, and Black Widow are coming later this year.
Plus Ultimate Captain America: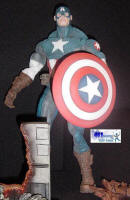 New Incredible Hulk figures include (the super nicely packaged)
Gamma Punch Hulk, the Absorbing Man, "War Hulk," and Mecha-Hulk:
And two supercool boxed sets to round out our Toy Fair 2004 preview:
The Fantastic Four boxed set includes three exclusive figures
(Invisible Woman, Franklin Richards, and H.E.R.B.I.E.) plus new
versions of the Human Torch, Mr. Fantastic, the Thing, and Dr. Doom: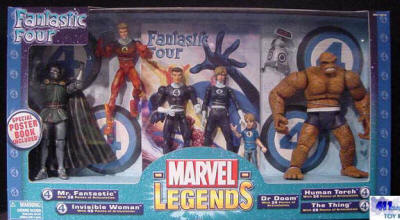 And Spider-Man tackles an unusual incarnation of the Sinister Six
(Dr. Octopus, Venom, Kraven, Electro, Green Goblin,
and the Black Cat) in this all-new boxed set: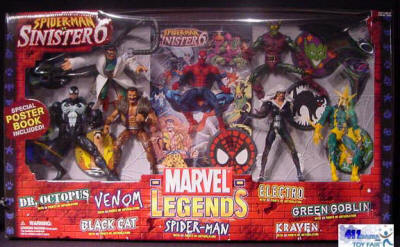 ---
We apologize for the lack of proper attribution on these photos, but they came to us virally through e-mail. A big thanks to our friends at The State newspaper, who made sure they reached us.