Tug's Pick of the Week
JLA/Avengers
#4
That's right. You can stop calling. You can stop asking. You can stop trying to name all the characters on the cover to issue # 3 to pass the time. Why? Because JLA/Avengers # 4 is finally here.
After recovering from a hand injury sustained while drawing that absolutely mind-blowing cover to JLA/Avengers # 3, George Pérez is back in the saddle and dedicated to drawing every single character connected to the JLA and Avengers that you could possibly ever think of — and then some. The wait was certainly worth it, people. When you see every single panel filled to the brim with different heroes than the last, you'll know what I mean.
This series has been a heck of a lot of fun, and the last issue is no exception. Kurt Busiek has provided a script that adds reason to the vast madness of a crossover as colossal as this. The story so far has been like reading the comics of my youth. Big, colorful super-heroes hop between dimensions in search of items of power and, of course, in typical super-hero fashion, beat the heck out of each other at the drop of a hat.
In this final issue, the heroes have put aside their differences to fight off the end of both of their universes. And standing in their way is virtually every villain either team has ever faced before. I kid you not.
One of the things I've enjoyed most about this series is how Busiek points out the differences between the heroes of the DC and Marvel universes. The JLA seem to Captain America to be fascist dictators who force people to worship them — and to Superman, the turmoil throughout the Marvel universe shows that the Avengers aren't doing enough. It's a really nice contrast between the two companies and their heroes.
If you've made it this far and haven't rushed down to Heroes and Dragons to pick it up, I don't know what else I can say to make you do so. Well, there is one thing: Batman vs. Batroc the Leaper!
Hey, where'd everyone go?
---
Other cool stuff, in case Batroc doesn't do it for you: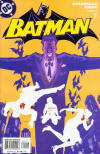 Planetary # 19 — Here's another book that was delayed for a long time but is finally out this week. And again, it's worth every penny.
Batman # 625 — The conclusion to Brian Azzarello's "Broken City."
Superman # 203 — This is the final issue of Michael Turner, Joe Kelly, and Talent Caldwell's selling-out-all-over-the-place "Godfall" story.