Tug's Pick of the Week
Sleeper: Season Two
#1
Well, boys and girls, this is the first "Tug's Pick" in a month or so. I hope you all aren't too disappointed with me — but hey, a guy has to take some vacation every once in a while, right? Then I was off in Charlotte for Heroes Con, and I've been playing catch-up around the office ever since. But fear not — your fearless comic manager was certainly spreading some comic-book love while he was away. In Charleston, I couldn't stop talking about The Invisibles; in Richmond, VA, they thrilled to the tales of the Runaways; and in Charlotte — well, let's just say that my love of Moon Knight is only slightly unnatural.
Anyway, enough yammering — on to the Picking! This week's Pick is the first time that a series has been featured twice. (Well, sorta.) I'm sure you all remember way back when "Tug's Pick" was just a wee babe and the Sleeper issue of the Coup D'etat crossover/mini-series was picked. Well, this week's Pick is Sleeper: Season Two # 1.
This WildStorm series is brought to you from the incredible writer/artist team of Ed Brubaker and Sean Phillips — two of the most talented people working in the business today. Together, they combine terrific storytelling and flawless art into a work that has to be a true labor of love on the parts of both men.
Sleeper is a story of espionage-gone-wrong. The hero, Holden Carver, is just what the title suggests — a sleeper agent working on the side of the angels by being planted in one of the most dangerous criminal organizations ever known. He is forced to do unspeakable things, all for the greater good. But in the first "season" of Sleeper, Holden found out that he's done his job a little too well: He's so firmly entrenched in the criminal underground that his own people are after him, and the only man who knows the truth of Holden's mission is dead.
I can't say much more without spoiling this great read, and I would certainly hate to do that, because it is such an enjoyable read. The most incredible thing about Sleeper is that it is one of the most universally appealing books I've ever had the pleasure of reading. If you like super-heroes, it's got that. If you like action, it's got that. If you want an intensely character-driven storyline, well — it's your lucky day, too!
Of course, no one wants to start watching a new season of a TV show without having seen everything that came before, so I'll be doing my best to keep Sleeper Vol. 1 and Vol. 2 (collectively, the first "season" of Sleeper) in stock. If you don't see it on the shelves, just ask one of the friendly H&D staff, and we can order it for you in no time flat.
---
Finally, I'll close out this edition of "Tug's Pick" with some must-have titles that came out while I was away. These are the "Picks That Could Have Been" ... .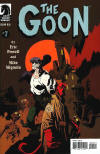 Goon # 7 — This is it! You've been clamoring for it, and now it's here: The Goon vs. Hellboy! Contained within this issue is some of the only Mike Mignola Hellboy art coming out this year, as well as the hilarity you've come to expect from Eric Powell and his creation, the Goon. The fact that Eric did a lovely sketch for my book last weekend at Heroes Con has nothing to do with my endorsement of this title. (Well, hey, it certainly didn't hurt.) Other cool things in this issue: zombies, porkchops, knife to the eye, and the Communist Airborne Mollusk Militia!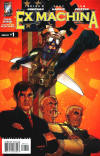 Ex Machina # 1 — This is, without a doubt, one of the best first issues of a series I have read in years. Brian K. Vaughan has been showing off his talent in books like Y—The Last Man and Runaways for a couple years now, but Ex Machina looks like it has the potential to surpass all of his other work. And when you throw in Tony Harris on art duties, you've got quite a lot of talent. I was beginning to think that Harris's name had been legally changed to "Tony Harris (Starman)," but let me be the first to write here that he shall henceforth be known as "Tony Harris (Ex Machina)."
Ultimate Fantastic Four # 7 — We all thought it would never happen again, but here it is: Warren Ellis writing a book for Marvel! And what a book it is! Now that their first adventure is over, the FF are left to ponder the source of their new powers. Oh, yeah, and that Doom guy is gonna show up. Ellis's writing is top-notch on this one, and Stuart Immonen, coming off a beautifully drawn book called Superman: Secret Identity, shows that he's certainly no slouch either. (Psst, # 8 comes out this week!)