Tug's Pick of the Week
Teen Titans
#16
Well, folks, this is one of those rare weeks when I am so convinced of a title's quality that even without a preview copy, I bestow upon it the honor of "Pick of the Week." What has gotten me so excited, you ask? Why, it's none other than Teen Titans # 16!
I don't think it's any secret that Geoff Johns and Mike McKone have been putting their all into every issue of Teen Titans for over a year now. However, this week's issue deserves recognition as a "Pick" not only because it's a great jumping on point for new readers, but it's also the beginning of the end of the Legion of Super-Heroes as we know them!
This is the first part of "Lost to the Legion," which will continue next week in the Teen Titans/Legion Special (co-written by Johns and Mark Waid). The story begins with Superboy and Wonder Girl's date being interrupted on account of Superboy being swept away by a cosmic storm. And though I haven't read it yet, the story will definitely end with a bang as the Titans must team up with the Legion in the 31st Century!
If you're a Titans fans or a Legion fan (or both) — heck, if you just like good comics! — then you won't want to miss either of these issues. Look for Teen Titans # 16 on the shelves this Wednesday next to the sign that says "Tug's Pick of the Week"!
---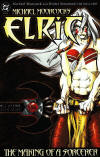 Some pretty books for the comic art lover this week:
Michael Moorcock's Elric # 1 — This book has some truly incredible artwork by Walt Simonson. In a fantasy story by renowned author Michael Moorcock, Simonson is able to let loose with all the energy and spirit that made his run on Thor legendary. C'mon, just look at the cover — look at the size of the sword, man! And there's even better stuff inside: Monsters, magic, and more!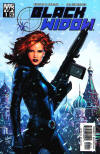 Black Widow # 1 — Bill Sienkiewicz has always been a favorite artist of mine. (Check out Moon Knight vol. 1 to see why!) In this new mini-series by writer Richard K. Morgan, Bill is channeling that old Moon Knight voodoo, and it shows! There's something about the way he draws action that is both realistic and fantastic at the same time.
It's always a treat to get new work from either one of these great artists, but to get them in the same week is almost too much comic goodness!