H&D's Top 10 Ongoing Series
Part Two: Numbers 6 through 10
Sorry for the delay, folks — we'll conclude our list of Dragon staffers' Top 10 Favorite Continuing Series next week. In the meantime, be sure to check out the Honorable Mentions that didn't quite make the cut.
(Once again, click the sample pages to view them at full-size.)
---
Adventures of Superman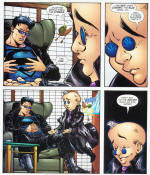 I just can't get over the turtle in the rowboat ... . For more Mr. Mxyzptlk, check out the newest Adventures on the stands this week!
This is, without a doubt, the best thing to come of the newly re-launched Super-titles.
Greg Rucka has really been on the ball with this one. He has somehow managed to add the more street-level feel that we're used to seeing from him to a character who is always flying high above the streets. We get much more of Clark Kent as he deals with being a Pulitzer Prize winner who suddenly is stuck working the unflattering city crime beat. Throw in Mr. Mxyzptlk, Lois Lane getting shot, some new takes on old Superman villains like Parasite, and great art by Matthew Clark, and you'll see why this comic is the sleeper hit of the year.
How to Jump On: Trade coming out soon! Otherwise, we got back issues!
---
Fables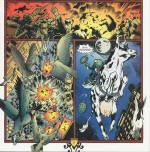 Mark Buckingham's pencils are too good for mere words. So I decided to show you Mr. Toad riding a certain jumping cow, dropping grenades.

Fables has been going strong for a couple years, and it just won't stop being awesome. This Vertigo title follows the characters of all the world's most beloved fairy tales — as they get along with life in modern-day New York City.
Bill Willingham has taken what in another writer's hands would be a quickly tedious concept and, through a true love of the characters, has crafted a solid book that is still as entertaining and innovative at issue 26 as it was at number 1. C'mon, if the Big Bad Wolf being the Sheriff of Fabletown doesn't excite you, I don't know what will.
Well, maybe our next selection ... .
How to Jump On: Always available in our Essential Graphic Novels section:
Fables, Vol. 1: Legends in Exile

Fables, Vol. 2: Animal Farm

Fables, Vol. 3: Storybook Love

Fables, Vol. 4: March of the Wooden Soldiers
---
Y — The Last Man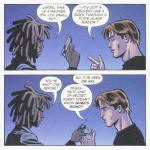 Yorick and his bodyguard, Agent 355, on the finer points of guns and Sean Connery.

Launched about the same time as Fables, Y led the way for the new and improved Vertigo of today. While all of his books are great — Ex Machina and Ultimate X-Men were honorable mentions — writer Brian K. Vaughan truly shines on this book.
Perhaps this is because he makes sure that the book's hero, Yorick (the last man on Earth), is occasionally a somewhat unlikable fellow. After all, what fun would it be if the last man on Earth was perfect and not a screwed-up twentysomething?
I'm always excited when a new issue of Y comes out. It's like a great TV show that knows just how to keep you on the edge of your seat. Artist Pia Guerra deserves a great deal of credit as well. Her pencils really give Y the perfect feel and tone.
How to Jump On: Trades! We got 'em; you need 'em:
Y—The Last Man, Vol. 1: Unmanned

Y—The Last Man, Vol. 2: Cycles

Y—The Last Man, Vol. 3: One Small Step

Y—The Last Man, Vol. 4: Safeword
---
JSA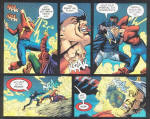 The Spirit King has possessed Jay Garrick, and the only cure is some tough love from Mr. Terrific!

This is the comic for people who like comics!
Every month, Geoff Johns spins his tales about the oldest super-hero team in the DCU, and every month, he reveals a little more of his encyclopedic knowledge of these characters. But, more importantly than facts and figures, he really delves into the characters themselves — their motivations, their loves, their fears. These are the heroes the Justice League looks up to!
If you like the DCU and you don't read this book, then stop whatever you're doing, come on down, and let us hook you up!
How to Jump On:
JSA, Vol. 1: Justice Be Done

JSA, Vol. 2: Darkness Falls

JSA, Vol. 3: The Return of Hawkman

JSA, Vol. 4: Fair Play

JSA, Vol. 5: Stealing Thunder

JSA, Vol. 6: Savage Times
---
Amazing Spider-Man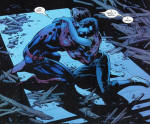 Yeah, it was a bad day at the Parker household ... again.

J. Michael Straczynski came on this title years ago, and his early run was so good that it seemed it would be impossible for him to keep generating such great ideas.
Well, no need to worry there. JMS is tearing it up something fierce right now. I'm sure you've all heard about the new revelations about Peter Parker's old flame Gwen Stacy by now, right? It's made some people upset, even furious, but it's just plain good storytelling according to everyone here at the Dragon. After all, we like our Peter "In action! In trouble! And upset as hell!"
This was a book that could have very easily slipped out of the Top Ten since, a few issues ago, John Romita Jr. (an H&D fave) left the book after possibly the greatest run of his career. Everyone here was quite skeptical of Mike Deodato taking over the pencilling job, but he has proven us wrong at every turn. And, boy, are we glad!
How to Jump On: Lots of trades are waiting for you at the Dragon:
Amazing Spider-Man, Vol. 1: Coming Home

Amazing Spider-Man, Vol. 2: Revelations

Amazing Spider-Man, Vol. 3: Until the Stars Turn Cold

Amazing Spider-Man, Vol. 4: The Life and Death of Spiders

Amazing Spider-Man, Vol. 5: Unintended Consequences

Amazing Spider-Man, Vol. 6: Happy Birthday

Amazing Spider-Man, Vol. 7: Book of Ezekiel