Ben Places 7th in War Cry
Congratulations to our own Ben Burnside, who placed seventh in the War Cry World Championship Tournament last weekend at GenCon.
Way to go, Ben!
Comic Club Meets This Thursday
H&D Comic Club will meet again this coming Thursday (August 7) at 7:30pm.
The book of the month is Sin City, Volume 1. Join us for a great discussion, and (if you haven't already) sign up for a full membership in Comic Club. Members will receive their very own membership cards this week — cards entitling them to 20% off any graphic novel or trade paperback purchase at Heroes and Dragons.
In the News
Italian artist Guido Crepax died on July 30. Crepax was best known in the U.S. for his contributions to Heavy Metal and his adaptation of the Marquis de Sade's Justine. more
DC is revamping the Superman titles, with Brian Azzarello and Jim Lee taking over Superman itself. more
Greg Rucka will take over Adventures of Superman. more
Chuck Austen will take over Action Comics. more
While Astro City: The Dark Age will use Kurt Busiek's original ideas for Marvels II, Busiek will write a new Marvels project for 2004 entitled Marvels: Eye of the Camera. The 6-issue series celebrates the 10th anniversary of the original mini-series and features art by Aria's Jay Anacleto. (Sorry, Alex Ross fans — Phil Sheldon's back, but Alex ain't.) Whereas the first series covered Marvel Comics up to 1975, this one will take readers up to the Marvel Universe circa 1989. more
Geoff Johns revealed some of his plans for The Flash. more
Marvel Comics is opening up a Talent Relations Department, and Joe Quesada's contract as Editor-in-Chief has been extended. Axel Alonso is being promoted to Executive Editor. more
Joe Madureira will contribute art to the upcoming Street Fighter series from Udon. more
Gail Simone will return for the final storyline in Agent X. more
Marv Wolfman and Len Wein will collaborate on a new project from IDW this fall, titled Gene Pool. more
The Sword of Dracula creative team (Jason Henderson, Greg Scott, and Tony Harris) will produce a new series for Marvel's Epic imprint called Strange Magic in 2004. more
Image's Paradigm will take a year-long hiatus after issue # 12. more
Comic Book Resources has posted a preview of this week's Supreme Power # 1, by J. Michael Straczynski and Gary Frank. more
The Pulse has posted preview pages from CrossGen's El Cazador # 1. Check out beautiful artwork from H&D alumnus Steve Epting. more
In response to reader demand, AC Comics will slow their Golden Age reprint program to make way for a relaunch of Femforce in September. more
Creators Jason Henderson and Greg Scott have put together a teaser trailer for their upcoming Sword of Dracula series from Image Comics. more
ADV Films' first round of manga comics will include print versions of Full Metal Panic!, Cat Girl Nuku Nuku, Steel Angel Kurumi, Azumanga Daioh, and Najica. more
DC Vice President and Creative Director Richard Bruning has been promoted to Senior VP. more
The Brath creative team is auctioning off several pieces of original art to raise money for research into the cause and cure of Rett Syndrome. If you like CrossGen books, this is a great place to spend some money and feel good about yourself. more
Todd Nauck and Lary Stucker (the former Young Justice art team) will draw a tie-in series for the Cartoon Network's Teen Titans cartoon. Written by J. Torres, the series will be called Teen Titans Go! more
Stan Sakai will contribute a new Usagi Yojimbo story to this fall's More Fund Comics CBLDF benefit book. more
Peter David and Tom DeFalco assured readers that their respective Marvel titles, Captain Marvel and Spider-Girl, will continue until at least summer of 2004. more on Captain Marvel and more on Spider-Girl
The Museum of Comic and Cartoon Art (MoCCA) in New York unveiled its new exhibit dedicated to Peter Kuper's adaptation of The Metamorphosis by Franz Kafka. more
A misshelved copy of Dan Clowes's Ghost World graphic novel is causing a stir in Birmingham, England. Someone in the Walsall Central Library shelved the book in the children's section. (Thankfully no one is objecting to the book itself, only its inappropriateness for childen. Perhaps we've turned a corner in the perception of comic books ... ?) more
TOY NEWS
Hulk Hands saved Marvel's Second Quarter numbers?! more
Comics Continuum has the lowdown on all the upcoming Toy Biz Marvel action figures. more
Mattel is debuting "Flavas," a line of Barbie-style dolls that "celebrate today's teen culture through authentic style, attitude and values." more
AWARDS NEWS
The 2003 Harvey Award winners were announced this week. more
GAME NEWS
The web site for Batman: The Rise of Sin Tzu went live on Thursday. more
Activision is bringing The Invincible Iron Man to the Game Boy. more
MEDIA NEWS
The Superman costume worn by George Reeves on television sold for $110,000 on eBay. more
Director Peyton Reed is off the Fantastic Four film, but Twin Peaks writer Mark Frost is reportedly contributing to the screenplay. more
Sergio Arguero (Y Tu Mama Tambien) is working on a big-screen adaptation of the Mexican wrestler comic Masks of Sonambulo. more
LEGAL NEWS
The Comic Book Legal Defense Fund (CBLDF) continues its battle against two vaguely worded "harmful to minors" laws — one in Arkansas and one in our home state of South Carolina. This week a District Court judge in Charleston, SC denied a motion by the State to dismiss the case against the vaguely worded law. Meanwhile, in Arkansas, the State has added an Amendment to Act 858 that requires new action on the part of sellers of material that is "harmful to minors" — but has not yet defined that pesky phrase. The CBLDF and several co-plaintiffs are asking for a summary judgement. more
Todd McFarlane's appeal in the Tony Twist case has been successful. According to the Missouri Supreme Court, the original jury was given improper instructions before deliberating. That jury returned a guilty verdict for McFarlane, and the court ordered him to pay $24.5 million in damages for misusing Twist's name and image. That decision has been thrown out, and the case will return to the lower courts later this year. more
INTERVIEWS WORTH READING
Coming Events
Lord of the Rings CCG League meets this Tuesday, August 5 at 4:00pm.
H&D Comic Book Club meets Thursday, August 7 at 7:30pm. This month's reading assignment is Sin City, Volume 1, so come prepared.
We'll be at the original Wizard World Convention in Chicago, Illinois this weekend, August 8-10. Stop by and say "hello."
Site to See
Remember all those celebrities who popped out of the window on the '60s Batman TV show? Here's a page that gives you the full scoop on the infamous "Bat-Climb":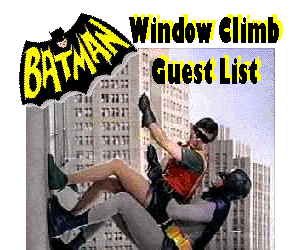 When you're finished reading about the guest stars, browse through the rest of this fun Batman TV show fan site.
This week's pick was brought to you by Tug Baker (who found the page) and my cousin Bruce Wayne Wilson, who was named after the Adam West show.
Question of the Week
... will remain on hiatus until we've caught up on your previous suggestions.
Thanks for all your great input, and feel free to send us any suggestions using this form.