Blankets Thanks
H&D Comic Club wishes to thank Blankets author Craig Thompson for joining us by conference call for Thursday night's meeting.
Despite the hectic schedule of a best-selling cartoonist — Blankets broke the Bookscan Top 50 Best-Selling Graphic Novels list last week — Craig was generous with his time and insight. To give you an idea how busy he was, we spoke to him from an after-party during the Small Press Expo in Bethesda, Maryland!
We appreciate Craig Thompson, and we look forward to hearing from him again.
We'd also like to thank Chris Staros, Publisher of Top Shelf Comix, for making Craig's telephone "visit" possible. And for producing a few extra copies of Blankets for the Club at the last possible moment. He is, without a doubt, the Most Stand-Up Guy in Comics.
If you haven't already, we recommend you go out right now and read Blankets, the comic ICv2 calls "the most poetic evocation of life in the Upper Midwest since the early novels and stories of F. Scott Fitzgerald." It's $29.95 at Heroes and Dragons (or $23.95 if you purchase a membership in our Comic Club).
Comic Club Reads Vault of Horror for October
Comic Club turns its collective Evil Eye toward horror this month, reading the first 10 issues of the EC classic Vault of Horror.
As one of the core EC titles, Vault of Horror was the impetus for the Kefauver Commission's investigation of comic books and the subsequent Supreme Court hearings that led to the formation of the Comics Code Authority in the late 1950s.
Today's comics readers may overlook the sophistication of the EC titles, dismissing them as gleeful depictions of gore capped with ironic twist endings. But a closer examination reveals subtleties of both art and story that predate other publications by at least two decades. And the terror these stories instilled in a generation of children is still present, almost 50 years later.
Join us at our next meeting on Thursday, October 2, as we dissect the most influential horror stories in comics. Our meeting will start at 7:30pm, which is after regular store hours — if the door is locked, someone will gladly let you in.
For those who don't know, we are actively recruiting new members! Comic Club members, bring a friend with you. If you're not a member, this is a great chance to meet our club regulars and enjoy a great chat with no obligation to join.
Copies of the Vault of Horror trades will be available after September 17, with a combined retail price of $18.90.
REMEMBER: If you already have an HDCC club card, you'll pay only $15.12, because membership entitles you to 20% off all graphic novel purchases at the store!
CGC News
CGC has updated their online population report. more
Comics News
The date has been set for Free Comic Book Day 3 — Saturday, July 3, 2004, the day after Spider-Man 2 opens in theaters. more
David Lapham will write and Bill Sienkiewicz will illustrate a story arc on Batman. Their run will fall between the last issue by Azzarello and Risso and the return of Loeb and Lee. more
CrossGen has release a promo image by George Pérez from the upcoming crossover The War. more
Columbia's own Greg Adams is inking Igor Kordey on X-Treme X-Men # 35 and 36. Look for more updates here in the next few weeks.
Rose and Thorn will return in a six-issue mini-series by Gail Simone with art by Adriana Melo and covers by Adam Hughes. more
Dark Horse plans to relaunch Conan with a special 25˘ issue titled Conan: The Legend. The new creative team of Kurt Busiek and Cary Nord will write and draw the issue. more
Com.X's Bazooka Jules is back on track, but there's no date on when issue # 4 will ship. more
Joe Kubert's Yossel will be an odd sort of autobiography — told from the point of view of a young Kubert who grew up in Nazi-era Poland instead of emigrating to America. more
Will Feifer and Patrick Gleason are putting Aquaman back in a version of his classic orange-and-green suit when they take over the book following Rick Veitch's run. Have a look. more
Dark Horse will release a trade paperback collection of Joss Whedon's Fray mini-series. more
Les Dabel's Roaring Studios is changing its name to Dabel Brothers. The company's forthcoming Dragonlance series will be published through Devil's Due rather than Image. more
Newsarama has posted a preview of Thanos # 1. more
Warren Ellis sent out a sample page from Ministry of Space # 3 to the people on his mailing list, Bad Signal. Chris Weston's art looked terrific, as usual. more
About Comics will publish a one-shot featuring Licensable Bear™ this November. "He's hip today — and tomorrow he'll be retro-hip!" Nat Gertler is writing the project. more
DC Direct 2004 News
DC Direct has released more exciting details about their plans for next year. 2004 will see the release of several long-requested figures, most notably Firestorm and Adam Strange! Other planned figures include Elongated Man, the Atom (Ray Palmer), and a Silver Age Batwoman (Kathy Kane) & Bat-Girl (Bette Kane) pack with a very special surprise accessory. ;-) We can also look forward to more "First Appearances" figures later in the year, including Hawkman and Green Lantern. more
For the record, our webmaster still wants Deathstroke,
the Doom Patrol, Black Lightning, Captain Atom,
the Golden Age Atom, Johnny Thunder, both Mr. Terrifics,
Deathstroke, Black Lightning, and Nightwing (who will
probably be included in the second wave of "Hush" figures).
Share your DC Direct requests with us here!
Media News
The Man-Thing movie began filming this week. Yep, the Man-Thing movie — which may be a direct-to-video release. more
AOL's new Kids OnLine ("KOL") will debut a new daily web comic called Batman: Shadow of Sin Tzu. The villain is Sin Tzu, from the upcoming Batman video game. more
Dreamwave will produce a calendar featuring the CapCom characters for 2004. The first wave of CapCom comics will include Devil May Cry, Maximo, and Darkstalkers. more
Stan Lee is working to develop new properties and concepts for Activision video games. more
Is there a growing trend toward OVAs (original video animations, i.e. direct-to-video cartoon features) in the U.S.? Milton Griepp's ICv2 web site seems to think so. more
Ignatz Award Winners
This year's Ignatz Award winners were announced yesterday at the Small Press Expo (SPX) in Bethesda, Maryland. Congratulations to our friends James Kochalka (who won the "Outstanding Online Comic" award for American Elf) and Rich Koslowski (who won the "Outstanding Graphic Novel" award for Three Fingers). more and more
Legal News
White Wolf game publisher and horror novelist Nancy A. Collins are suing Sony Pictures over the new film Underworld, which stars Kate Beckinsdale as a werewolf-hunting vampire. White Wolf and Collins claim the film has stolen story elements from Vampire: The Masquerade and Werewolf: The Apocalypse. more
The Chaos! Comics auction will be held October 1 in Phoenix, Arizona. Rights to the entire stable of Chaos! characters and stories (except Lady Death) are up for grabs. Bidding starts at $7,500. more
Interviews Worth Reading
Coming Events
Lord of the Rings CCG League meets every Tuesday at 4:00pm.
Site to See
Long-time Dragon's Breath readers know that our webmaster is a sucker for a new and innovative way to tell a story. It's no surprise then that he's been charmed by the multimedia storytelling of Letters from Homeroom: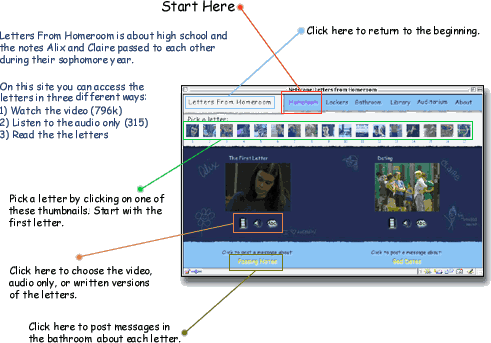 Question of the Week
... will return. We haven't forgotten your earlier suggestions, and we'll be soliciting more opinions from you as soon as we're caught up on our current projects.
In the meantime, feel free to send us suggestions using this form.