This newsletter is sent in HTML format using CSS and JavaScript. The background should be cream, hyperlinks should be orange, and hyperlinks should glow when you scroll across them. If you do not see these effects, please view this newsletter online at this address: http://www.heroesanddragons.com/Newsletter/Archive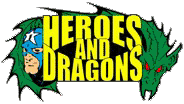 Scare Up Halloween Savings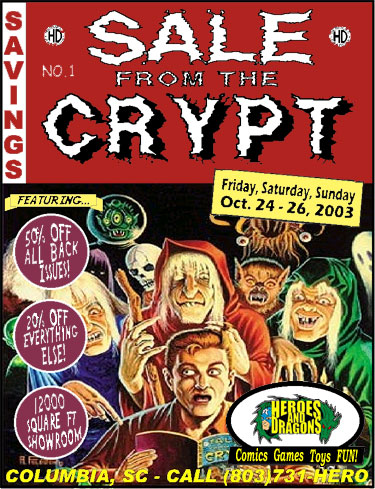 All Back Issues Are 50% Off This Weekend
100,000+ "dollar comics" on sale for only 50¢ each — or $100 for a long box full of comics (approximately 300 books!)

Over 10,000 Golden, Silver, and Bronze Age comics

10,000 "hot" Modern Age comics

Treasury Editions, Digests, and magazines, too!
Everything Else Is 20% Off This Weekend
New comics

Graphic novels

HeroClix and Warhammer miniatures

Role-playing games and collectible card games

Posters, wall scrolls, and statues

Toys and action figures

Collecting supplies

T-shirts, hats, and apparel
Dragon's Breath Still Loves You ...
Ye olde webmaster is swamped with work lately, but he has plenty of cool stuff to tell you about upcoming events at H&D — Dragon's Breath will return to its regular schedule this weekend!
As always, sale prices DO NOT apply to items on hold or listed for sale on the web site. Mail orders are welcome, but you must call in your order during store hours or submit it via e-mail before closing time (7:00pm) on the last day of the sale (Sunday, October 26). You can e-mail your orders and requests via our Contact Us page.
---
Dragon's Breath is written and administered by Scott Simmons.
Copyright © 2003 Heroes and Dragons.
All rights reserved.
To contact us, please visit this page.
DO NOT REPLY DIRECTLY TO THIS E-MAIL.
Your message will not reach us.