This newsletter is sent in HTML format using CSS and JavaScript. The background should be cream, hyperlinks should be orange, and hyperlinks should glow when you scroll across them. If you do not see these effects, please view this newsletter online at this address: http://www.heroesanddragons.com/Newsletter/Archive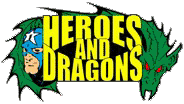 Columbia Comicon Returns
Saturday, November 15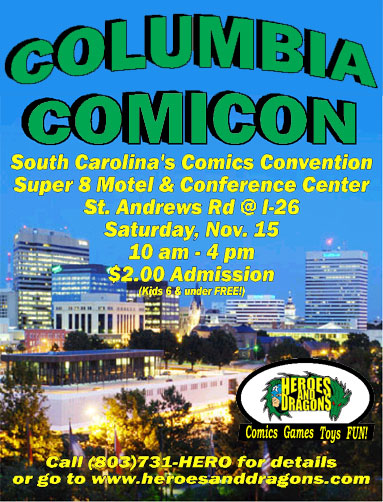 COMIC CLUB MEMBERS,
Scroll Down for a Special Deal!
After a six-year absence, the Midlands' only comics convention is coming back to Columbia. This special one-day show will be held at the Super 8 Motel & Conference Center on St. Andrews Road in Columbia.
Location and Times
The Conference Center is located behind the Hilltop Restaurant, just off I-26 at St. Andrews Road. (Click here for directions.)
Special Guests
Times and Admission Rates
Show hours are 10am to 4pm. Admission is $2* (free for kids under 6 years old).
Special Price for Comic Club Members
Members of the Heroes and Dragons Comic Club (HDCC) will be admitted for only $1 when they show their membership cards!
---
Dragon's Breath is written and administered by Scott Simmons.
Copyright © 2003 Heroes and Dragons.
All rights reserved.
To contact us, please visit this page.
DO NOT REPLY DIRECTLY TO THIS E-MAIL.
Your message will not reach us.