Ho, Ho, Ho — Santa Delivers New Comics on Christmas Eve!
That's right! New comics will arrive with no delay this Wednesday, December 24 — on Christmas Eve!
New comics will be out on the wall by 3:00pm, as usual.
However, we will be closing early — at 6:00pm. Hey, we want to spend some quality time with our families, too!
H&D Holiday Hours
As mentioned above, we'll be closing early on Wednesday, December 24 for Christmas Eve.
Heroes and Dragons will be closed on Christmas Day, December 25.
We will re-open for our normal hours at 11:00am on December 26.
Next week, we will close early (at 6:00pm again) on New Year's Eve, but we'll re-open for regular store hours on January 1, 2004.
To recap:
Christmas Eve »
Wed, Dec 24
11:00am - 6:00pm
(early closing)
Christmas Day »
Thu, Dec 25
CLOSED
* * * * * * * * * * * * * * * * * * * * * * * * *
New Year's Eve »
Wed, Dec 31
11:00am - 6:00pm
(early closing)
New Year's Day »
Thu, Jan 1
11:00am - 7:00pm
(normal hours)
No Post-Christmas Delay
More good news: There will be no delay on new comics next week, either! This means you'll get new comics without interruption both Wednesdays — first on Christmas Eve, then a week later on New Year's Eve.
However, as mentioned above, we will close early (at 6:00pm) on both days. If you're part of our large "after 6" crowd — get here early!
New Previews Files Posted
When your holiday shopping is finished, sit down and do some shopping for yourself!
We've posted the text and support files for Previews ("The Comic Shop's Catalog"®). The latest catalog covers all items expected to arrive in March 2004. To view the text of the entire catalog (and its supplements), click here.
Orders from this catalog are due before midnight on Saturday, January 17.
Remember: You can submit your order online by going to www.heroesanddragons.com and clicking "Subscriptions > Submit Previews Order."
Coming Events
Lord of the Rings CCG League meets this Tuesday, December 23 at 4:00pm.
Site to See
Looking for the perfect contemporary holiday song to round out your seasonal mix tape? They're all here — from Elvis Presley to Elvis Costello, Mistletunes is the home of holiday rock 'n' roll: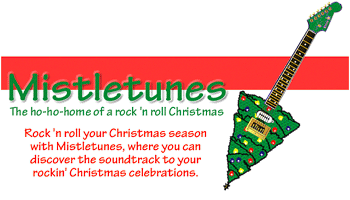 Got a holiday-themed mix of your own? Click here to tell us what's on it!
We're rocking out to the Flaming Lips' new holiday song "A Change at Christmas (Say It Isn't So)" — !
New Year's Surprise
We have a big surprise up our sleeve for New Year's weekend!
Stay tuned to Dragon's Breath for details. We'll tell you more after Christmas.