Deluxe Dollar Book Deal
Are you sitting down? Seriously — are you sitting down?
Heroes and Dragons is blowing out our entire stock of 90,000 dollar comics — for ONLY 25¢ each!
Bet you're sitting down now.
Here's the deal: We need to get rid of a few thousand dollar books to make room for a new stock. And the best way to get rid of dollar books is to sell 'em, so we're throwing a gigantic spur-of-the-moment sale.
Starting Saturday, February 28 and continuing all week until Sunday, March 7, all dollar comics are on sale at the unbelievable rate of Four-for-a-Dollar. (That's 25¢ in mathematical terms.)
If you weren't sitting down before, you should definitely park yourself for this: Fill a long comics box (approximately 300 books) for only $50 per box!
Pretty terrific deal, eh?
The Usual Disclaimers
Sale prices DO NOT apply to items on hold. You cannot place sale items on hold.
Sale prices DO NOT apply to items listed for sale at any venue outside the Mega-Store (i.e., our web site, eBay, Heritage Auctions, or ComicLink.com).
Mail orders are welcome, but you must call in your order during store hours or submit it via e-mail before closing time (7:00pm) on the last day of the sale (Sunday, March 7). E-mail your orders and requests through our Contact Us page.
Comics! Dolls! Toys! Oh, My!
Mark Foy's Columbia Comic, Toy, Doll, and Collectible Show returns this weekend. Show hours are 10am to 4pm on Saturday, February 28.
This is the sixth year of Mark's all-interest collectibles show, and we hope to see a big turn-out. The snow flurries should be gone by tonight, and temperatures are expected to be in the 60s on Saturday.
Heroes and Dragons will be setting up a 40-foot wall at this show with an all-new collection of modern (late 1980s to present) action figures. If you're looking for 5", 6", 7", or 12" super-hero toys, you need to see our set-up at this show!
You'll also find classic and new comic books, Hot Wheels, Barbies, Beanie Babies, Star Trek memorabilia, lunch boxes, action figures, antique toys, and many more collectibles at the show. Plus a special appearance by Spider-Man!
Directions:
Take Interstate-26 to Exit 106 in Columbia.

Turn onto St. Andrews Road south.

Turn right at the first stop light, onto Jamil Temple Road.

The Temple is about 1/4 mile down the road, on your left.

Click here for a MapQuest map.
The Only Constant in Comics Is Change ...
It's a truism because — well, it's true: The only constant in life is change.
Heroes and Dragons bids a fond farewell to Back Issue Manager John Boozer, who now claims Tampa, Florida as his base of operations.
In his stead, the ever-popular Tug Baker will pull double-duty as New Comics and Back Issues Manager — or, as we like to call him, simply "Comics Manager."
We'd also like to welcome Dragon alumnus Tracy Hollingsworth back as a full-time staffer. Our out-of-town customers will be seeing a lot of Tracy on the convention circuit.
Starting this Sunday, we'll be adding a new review feature to Dragon's Breath and the Heroes and Dragons web site. Tug's weekly comics picks have met with such enthusiasm that we're recruiting a weekly toy reviewer into the fold. In our next issue of Dragon's Breath, you'll meet the Toyman and find out which toys he recommends.
Change is good!
Pick of the Week — Conan #1
By New Comics Manager Tug Baker
This week's pick is one of those rare moments when I choose a book that I haven't read beforehand. I base these untested picks on previous issues, online previews, my general excitement about the book, or money from publishers. (Just kidding on that last one.) This week's pick comes to us all the way from the Hyborean Age! That's right — it's Dark Horse's Conan # 1.
Kurt Busiek (Marvels, Astro City, Avengers Forever) is writing the scripts for the new series, all of which are based on the original Robert E. Howard stories — much like Roy Thomas did during the earlier series. If the Conan # 0 preview issue is any indication, then we can expect some really great writing from Busiek that stays true to Howard's vision of the character without seeming like a stale copy of it. Really and truly, there's not much that hasn't already been said about Kurt Busiek, but just in case you didn't know, he's one of the best writers working in comics today. His Arrowsmith series with Carlos Pacheco is a book that is far too often overlooked.
The real star of Conan, though, will probably be artist Cary Nord. He draws Conan with just the right touch of brutality, so that he's a hero the reader can pull for but still be scared of. That's what Conan's all about. I've never been much of one for lots of blood and gore in comics and video games and such, but Nord manages to make Conan a bloody book without overemphasizing the grossness of it. Check out the online previews linked at the bottom of this article; when he chops that guy's head off, it's such a strangely beautiful image.
Dark Horse's Conan # 1 looks like it will be a great reintroduction to the character through the medium that allowed him to gain more popularity than any other. If you're a Conan fan, then you won't want to miss it. If you're not a Conan fan, then you're already missing out. Jump on the train!
For Tug's complete review, click here.
Coming Events
The Columbia Comic, Toy, Doll, and Collectible Show is this Saturday, February 28 from 10am to 4pm.
Legend of the Five Rings (CCG) Clan Rivals tournament this Saturday, February 28 at noon. Unicorn vs. Scorpion.
Lord of the Rings CCG League meets next Tuesday, March 2 at 4:00pm.
Comic Club meets again next Thursday, March 4 at 7:30pm.
Site to See
How would you like to be an official torch-bearer for the Summer Olympic Games in Athens, Greece?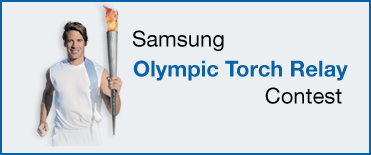 Samsung Mobile is offering you a chance to win this once-in-a-lifetime position — but hurry! You have to enter the contest by Sunday, February 29, 2004.