Previews Orders Due Saturday, March 13
Has another month come and gone already? We're afraid so — and it's time to submit your monthly Previews order to Heroes and Dragons.
If you don't have a copy of the print catalog, you can download the text version on our web site, browse through the great products arriving at H&D in May, and submit your order online.
But get cracking — the deadline is Saturday, March 13 at midnight!
Comic Club Goes to Hell, Boy!
For our next meeting (Thursday, April 8), the H&D Comic Club is delving into the lore of Hellboy.
Mike Mignola's creator-owned series has grown from a quirky Dark Horse Presents feature to a media juggernaut, and Comic Club will celebrate Hellboy's conquest of the big screen by reading the first Hellboy tale (and basis for the story of the film), Seed of Destruction.
We'll also be reading The Corpse, a one-shot widely acknowledged as one of Mignola's best Hellboy tales, when Dark Horse reprints it later this month. (Members, take note: The Corpse one-shot is now scheduled to arrive at H&D on March 24.)
Comic Club will meet to discuss Hellboy at 7:30pm on Thursday, April 8 in the H&D Game Room. We're meeting on the second Thursday of the month to give everyone a chance to see the Hellboy movie, which opens in local theaters on April 2.
If you're still not a member of Comic Club, this is a great chance to meet everyone and learn all about the program. If you decide to join, there's a $20 per year membership fee, which also entitles you to a year-round 20% discount on all graphic novels (not just the ones we read for Comic Club).
Plans are underway to line up a Comic Club screening of the Hellboy movie. We'll keep members posted on the date and time.
Pick of the Week —
Avengers vs. Thunderbolts #1
By Comics Manager Tug Baker
Currently, the Avengers are fighting the JLA. (Sorry, I have no idea when that last issue is coming out!) Pretty soon, they'll be fighting the rich and famous mutants of X-Statix. But this week, Earth's Mightiest Heroes take on Marvel's Most Unpredictable (Marvel's tagline, not mine) in Avengers vs. Thunderbolts # 1.
This six-issue mini-series is made possible by the writing team of Kurt Busiek and Fabian Nicieza, with pencils by Barry Kitson. Busiek and Nicieza both had great runs on Thunderbolts before that title fell victim to NuMarvel thinking and became some ridiculous Fight Club knockoff. Of course, neither writer is a stranger to the Avengers.
Busiek and Nicieza decide to take this book in a direction that's becoming pretty familiar in this post-Authority world: The Thunderbolts have decided to go into a made-up Marvel country and destroy their nuclear program, "making the world a safer place" but raising the eyebrows of the entire world in the process — especially Captain America and crew.
The writing is spot-on, and fans who have been clamoring for the return of the Thunderbolts need wait no longer. The story so far is very T-Bolts-centered. (After all, the Avengers still have their monthly book.) The only real drawback is that if you're not 100% caught up on your T-Bolts history, then there's a chance you'll miss some references here and there, but nothing that will completely ruin your comic-reading experience. And with that awesome Barry Kitson art, you can't go wrong. If you liked Kitson's work on Empire (written by Mark Waid), then you'll dig this book as well.
This week's Pick was a tough call, though. These other titles put up a good fight, and if you'd like to learn why I almost made them "Tug's Pick of the Week," you can read the mini-reviews on heroesanddragons.com:
For Tug's complete review, click here.
Toys of the Week —
Spawn Series 25: Classic Covers II
By The Toyman
Welcome back, toyboys and toygirls! The Toyman has returned with your weekly dose of toy reviews and news.

This week's review is Spawn Series 25: Classic Covers 2 — the most recent release from Todd McFarlane Productions. This six-figure series has just been released, and like the previous 24 series is flying off the shelves. Only five of the figures are being reviewed today. The sixth, The Creech, is the boxed set for the line and is running about a week or two behind the regular series.

The series consists of Spawn (from the cover of Spawn # 95), Hellspawn (from Hellspawn # 5), Sam & Twitch (Sam and Twitch # 26), Raven Spawn (Hellspawn # 11), and the Redeemer (Spawn # 117).
As always, if you are a fan of McFarlane toys, you will not be let down.
The Spawn figure is a perfect representation of the artwork from the series. His cape is sculpted to capture the dynamic motion of his pose, a pose that commands attention. The figure under the cape is not a dramatic improvement over the last few Spawns and actually looks very similar to the Series 20 Spawn.
At first glance, this Hellspawn looks like the last one with a new cape and gun. Nothing could be further from the truth. A vast improvement over that last Hellspawn, this one is more menacing and looks even more like Ashley Wood's artwork just stepped off the page.
Raven Spawn's pose may be the dullest of the bunch. Yes, the level of detail is still there, but the character just doesn't look as dramatic standing next to the rest of the wave.
The Redeemer is the stand-out figure of the line. His pose is beyond impressive — arms outstretched, wings spread, ready to attack. Every feather is there, sculpted realistically enough that you almost think he could fly. His armor is well-engraved, and his muscle tone is well-captured.
And finally we have a new Sam and Twitch. They are fantastic! We now have a Twitch that is dwarfed by the massive size of his partner. Ashley Wood's art translates perfectly to plastic in the Sam and Twitch, Hellspawn, and Raven Spawn figures. I am not a fan of Wood's artwork at all, but when his designs are translated into plastic, they make for impressive toys.
Spawn Series 25 as a whole receives 4 out of 5 stars from the Toyman. A great buy that will please even the pickiest Spawn fan.
And Now for This Week's News ...

It has been a slow news week, but two highlights are:
McFarlane Monsters Series 3: Faces of Madness is finally revealed (sort of) at Spawn.com.

Diamond Select has taken over the Buffy license from Clayburn Moore. Moore will still be involved in the sculpting.
That's it for this week, toy fans. Tune in next week for a review of Kingdom Come Series 1-3.
Coming Events
Lord of the Rings CCG League meets this Tuesday, March 16 at 4:00pm.
Site to See
In keeping with this week's Hellboy movie theme, here's a ten-minute featurette on the film, only available through Best Buy: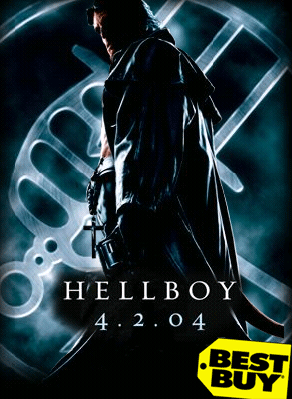 Click the link for interviews with Mike Mignola, director Guillermo del Toro, actor Ron Perelman, and other members of the cast and crew — plus lots of exclusive footage.