Hi, Mom!
What good is a giant international mailing list if you can't occasionally abuse it?
Today is the birthday of ye olde webmaster's mom — Linda W. Simmons of Enoree, South Carolina. Happy birthday, Mother! And thanks for letting me read all those comics. They're still keeping me out of trouble. Want to stick around and read the rest of the newsletter this time? Hm?
...
I knew she'd do that. Oh, well — on to the comics and games!
A Quick Retraction
Whoops! We accidentally left the bylines off our "Pick of the Week" and "Toy of the Week" reviews in Dragon's Breath v 8.34.
For those who don't already know:
"Pick of the Week" is written by our intrepid Comics Manager, Tug Baker. Every week, Tug worries he won't be able to find a good enough comic to recommend — and every week he calls in, excited, to tell us about three or four unexpected surprises.
The "Toy of the Week" is chosen by our guest columnist, the Toyman. When he isn't scheming to destroy Superman, he's haunting the aisles of the Dragon and watching the local Wal-Marts for new releases.
You'll find their latest reviews below ... .
Comic Club Gives 'Em Hell(boy)
Hellboy hit theaters with a vengeance this weekend — and, come Thursday, the H&D Comic Club is hitting back!
We're meeting at 7:30pm in the H&D Game Room to discuss Hellboy: Seed of Destruction and The Corpse one-shot. Every month, the HDCC meets to unleash its collective critical energies on a graphic novel of choice. This month, we're targeting Mike Mignola's monstrous Hellboy.
Think Hellboy can handle it? Join Columbia's Greatest Comics Readers and find out!
Comic Club members can read "Pancakes" online by clicking here and entering the special password Chad gave you.
Previews Orders Due This Saturday, April 10
So get cracking!
You can download the Previews files here and submit your order here.
Go on. Shoo. I'm not going to do your order for you.
...
Still here?
Geez, O.K., I'll get you started. There's some stuff you can order in the next two sections ... .
Pick of the Week — Amazing Spider-Man #506
By Comics Manager Tug Baker
There's nothing fancy about this week's pick. Not the first issue of a new series. Not a concluding issue to a crossover. Not a special promo issue. Nope, this week it all comes down to just plain good comics. And that's what Amazing Spider-Man # 506 is all about.
While I'll be the first person to tell you that J. Michael Straczynski's run on Amazing has been somewhat hit-or-miss — I'll also tell you that when it hits, it hits hard (# 36 and # 500 immediately spring to mind). The latest issue of Amazing marks JMS's return to writing duties after letting Fiona Avery have a hand at scripting the last story arc (possibly a tryout for her new Amazing Fantasy gig?).
In this, the first issue of a new story arc entitled "The Book of Ezekiel," JMS brings back (guess who) Ezekiel — the mysterious character with Peter Parker's powers who was introduced back when JMS first started his run on the book. Ezekiel has opened a new world for Spider-Man by suggesting that the wall-crawler's powers may not come from the science of a radioactive spider bite — but from the spider itself. This path has led Spider-Man a bit out of his element. Ever since meeting Ezekiel, our favorite web-head has been dealing with more mystical elements than he is used to. In this issue, Ezekiel comes to warn Peter that his toughest challenge yet is coming. But is Ezekiel really to be trusted?

Apparently, this story arc will be the last for penciller John Romita Jr., who has been on the book for the entire JMS run. Marvel has had a good habit lately of finding artists who really define a book and keeping them there. Just as I can't imagine Mark Waid's Fantastic Four without Mike Wieringo or Ultimate Spider-Man without Mark Bagley, an Amazing Spider-Man without J.R. Jr. just doesn't seem possible. His style and tone have set the bar high for this series, and I hope all those who follow can stand up to the challenge. Romita has said he hopes to return to the book as soon as he gets a chance. (If you're wondering what he'll be spending his time drawing, check the latest issue of Previews for The Gray Area. Plus, the rumor mills are reporting a Black Panther project and then Wolverine with Mark Millar.)
So that's it for this week. Like I said, nothing flashy — just plain good comics. Don't you dare miss it!
On the web site, I give you a glimpse at two other don't-miss comics this week:
Negation War # 1

My Faith in Frankie # 4
For Tug's complete review, click here.
Toys of the Week — Hellboy Mez-Itz
By The Toyman
This week we continue our look at the Hellboy movie line from Mezco Toys. With the movie opening to rave reviews and packed theaters, we can only hope that another of our favorite comic heroes will be a successful franchise.
Mezco has released a great line-up for the movie. There is a basic wave of six 8" figures complemented by a massive 18" Hellboy and a cute little line of six "Mez-Itz."
Mez-Itz are Mezco's entry into the current mini-figure field. Kubricks, Mini-Mates, Pocket Super-Heroes, gashapon (Japanese capsule toys), and Mez-Itz — there are enough mini-figures out to satisfy even the most discerning of toy buyers. Mezco's entries into the field have been fantastic so far. Original monsters, Aliens, Predators, Jason, Freddy, Leatherface, Ash, Austin and more have paved the way for these great Hellboy toys.
It's nice to get a toy that's not clamshelled for a change. The cards are thick cardboard, and the bubbles are strong. The graphics are strong, and there is no doubting these are Hellboy toys. The figures are prominent, and the same characters from the 8" line are reduced down to Mez-Itz.
The sculpts are kept simple and are a little cartoonish, but they are supposed to be. Mez-Itz are stylized figures: Big heads, Lego-styled hands, and round bodies.
These are not as articulated as Mini-Mates, but you can have a lot of fun with them.
Paint is where the Mez-Itz let me down. Some parts are really well-painted, while others aren't. There's a little slop on Sammael's feet, Rasputin's beard, Abe's toes, and Hellboy's hands. The slop is especially bad on the black-shirt Hellboy: His hand has the brown-painted edge from a coat he's not wearing. Kroenen is well-painted; Abe's body is appropriately shiny and striped; and the muscle lines on Rasputin and Hellboy are perfect. Even the BPRD logo on Hellboy's shirt is perfect.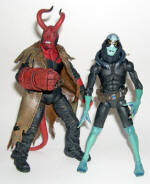 The Hellboy Mez-Itz will set you back around $7 for each two-pack. Not bad at all. It's about the going rate for mini-figure two-packs these days. And for as much enjoyment as I've gotten out of these figures, I would've paid more.
These are great toys. They're compatible with all the other Mez-Itz and can take down toys five times their size!
If you still don't have enough Hellboy toys, you can order the Previews-exclusive Battle-Damaged Hellboy and Wetsuit Abe in the current Previews.
If you don't read the Toyman's complete reviews, you're
missing the details on these Hellboy toys — not to mention
extensive photographs and hear-it-here-first toy news.
Click here for the full review.
Coming Events
Lord of the Rings CCG League meets this Tuesday, April 6 at 4:00pm.
Comic Club meets to discuss Hellboy: Seed of Destruction and Hellboy: The Corpse on Thursday, April 8 at 7:30pm.
Warhammer Fantasy tournament this Saturday, April 10 at noon.
Site to See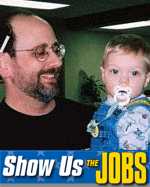 H&D customer Greg Sommers just finished a nationwide tour with "Show Us the Jobs."
He and 50 other downsized employees from across the U.S. rode by bus from the Heartland of America to the nation's capital to raise awareness of unemployment and labor issues. You can read his trip blog by clicking the photo at right.
Way to get involved, Greg!