Dragon's Breath Returns
We apologize for the long delay between issues — our webmaster was ill-prepared for the flood of spring business, but some upgrades and rescheduling have finally brought Dragon's Breath back onto schedule.
While America's Most Beloved Comics Store Newsletter™ has fallen off the map in recent weeks, heroesanddragons.com has been going strong. If you haven't visited the site recently, this would be a good time — we don't want you to miss Tug's "Picks of the Week" or the Toyman's latest toy ravings!
Celebrate Summer with Savings
At H&D, we love summer — that's why we welcome the season of sunshine, long days, and outdoor barbecues with a gigantic sale every Memorial Day Weekend!
This year is no exception; we're offering savings of 20-50% off everything in the store, effective all weekend long. Here's the breakdown:
Save 50% on ALL back issues

Save 50% on ALL Magic: The Gathering singles

Save 20% on EVERYTHING ELSE in the store, including:
— new comics
— RPG books, dice, and gaming supplies
— DVDs and VHS videos
— graphic novels and limited edition hardcovers
— t-shirts, baseball caps, and apparel
— CCG decks, boosters, card boxes, and more
— new and vintage collectible toys
The sale ends at closing time (7:00pm EDT) on Monday, May 31. (That means you still have time shop our Mega-Store, even if you're out of town right now!)
If you're not local to South Carolina, you can still take advantage of the savings — just call in your order (803-731-4376) or send us an e-mail before the end of the sale. We stay busy during sales, so it may take us a few extra days to pull your order — but you'll still enjoy the sale prices because you ordered during Memorial Day weekend!
Click here for rules, terms, and disclaimers.
Excelsior! Comic Club Reads Marvels for June
As the Heroes and Dragons Comic Club (HDCC) enters its second year, we've made a shocking realization: Look through the list of books we've tackled, and you won't see a single Marvel Comic!
With that in mind, the Comic Club wants to tackle a graphic novel that addresses both the human and superhuman aspects of Marvel Comics. A book that serves as introduction to the flavor Lee and Kirby brought to super-heroes. A book where the heroes wear real clothes, sewn with their own hands, and carry the weight of real tragedies — all in the face of grand spectacle the Mighty Marvel Manner.
So face front, True Believers — at long last, the HDCC is delving into Marvel Comics, and we're starting with the 1994 mini-series Marvels, by Kurt Busiek and Alex Ross.
We'll meet again this Thursday, June 3 at 7:30pm in the H&D Game Room. Come prepared to discuss Marvels and the host of Marvel-super-hero-related issues it will bring up. (Er, no pun intended.)
Click here to learn more about Marvels, or here to learn more about the HDCC.
Download June Previews Files
As we do every month, we've posted the latest Diamond ordering tools on heroesanddragons.com. Click on Subscriptions > Download Previews Files from the main menu and you'll find these great resources to help you prepare yourself for our August shipments.
Among the files we post each month:
You can skip straight to the files by clicking the links above. And whether you use these files or not, you can submit your Previews order online by clicking here. (Not a subscriber? Fill out our online application, and you could start receiving comics as early as next week!)
This month's Previews order deadline is Saturday, June 12!
Death — Er, Rather, "Tug's Pick of the Week" Takes a Holiday
New comics manager Tug Baker is taking some time off this week, so his popular "Pick of the Week" feature will be on hiatus for the next two Sundays.
Rest assured that Tug and the Toyman are merely recharging their batteries and readying a brand-new onslaught of raves and reviews for heroesanddragons.com.
Coming Events
Our Memorial Day Weekend Sale continues from now until close of business (7:00pm EDT) on Monday, May 31.
Lord of the Rings CCG League meets this Tuesday, June 1 at 4:00pm.
Comic Club meets to discuss Marvels at 7:30pm this Thursday, June 3.
Warhammer "Lunchammer 40K" tournament this Saturday, June 5 at noon.
MageKnight Tournament this Saturday, June 5 at 1:00pm.
400-point Marvel Teams HeroClix Tournament Saturday, June 5 at 1:00pm.
Site to See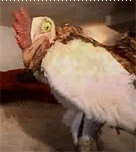 He's been running a little slow lately (since everyone on the web found out about him), but the Subservient Chicken will do whatever you tell him!
Naturally, the first thing we told him to do was "read comics" — and, sure enough, this Chicken had some graphic novels on his bookshelf!
(The Subservient Chicken is actually part of a clever ad campaign for Burger King's new chicken sandwich. You'll find him at www.SubservientChicken.com.)