One Day Only! — Free Comic Book Day Returns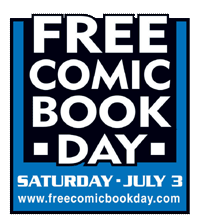 Time for our favorite holiday weekend — and no, we're not talking about Independence Day. While we are a patriotic crowd, Free Comic Book Day offers something the Fourth of July doesn't — FREE COMICS!
Every year, a couple dozen innovative and generous publishers partner with Diamond Comic Distribution and independently owned and operated comic book stores across America for Free Comic Book Day. 2004 marks the third anniversary of the event, wherein you can get free comics — yes, absolutely free, with no catch whatsoever — just by walking into a local comics shop.
The trick, you see, is that comic books are so irresistibly good that you'll have to come back for more after you've gotten your first taste.
Don't believe us? Then take the Free Comic Book Day Challenge: Drive down to Heroes and Dragons on Saturday, July 3 and pick some some free comics. Even if you can't tell one comic from the next, our staff will match your tastes up with something you're sure to enjoy. Then take the comics home, read 'em, and never come back for another taste. We dare ya!
Free comics will be available all day on Saturday, July 3 (from 10am to 9pm) — unless we run out of stock before the end of the day. For a complete list of comics you can take home FREE, click here.
Full-Length Dragon's Breath Coming Sunday ...
Tug's back with an all-new "Pick of the Week."

The Toyman reviews Kill Bill action figures.

Comic Club meets next Thursday to discuss The Filth.

We're giving away an apartment near H&D! *

Plus, 803 is coming ...
You don't want to miss these great features! We'll bring you up to date on goings-on at the web site and elsewhere this Sunday evening.
* True — except for the "giving away" part.