This newsletter is sent in HTML format using CSS and JavaScript. The background should be cream, hyperlinks should be orange, and hyperlinks should glow when you scroll across them. If you do not see these effects, please view this newsletter online at this address: http://www.heroesanddragons.com/Newsletter/Archive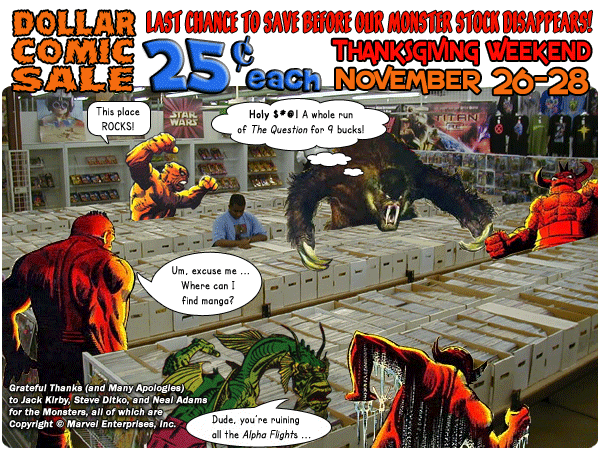 It's Not Too Late ...
Even if you missed the first day of our massive 25¢ Monster Stock clearance sale, it isn't too late to enjoy the savings!
MONSTER STOCK COMICS will be ONLY 25¢ through Sunday night
So don't miss out! Full details can be found at heroesanddragons.com.
---
Dragon's Breath is written and administered by Scott Simmons.
Copyright © 2004 Heroes and Dragons.
All rights reserved.
To contact us, please visit this page.
DO NOT REPLY DIRECTLY TO THIS E-MAIL.
Your message will not reach us.
SUBSCRIBE | UNSUBSCRIBE | ARCHIVE