50,000 Brand-New Dollar Books for Christmas!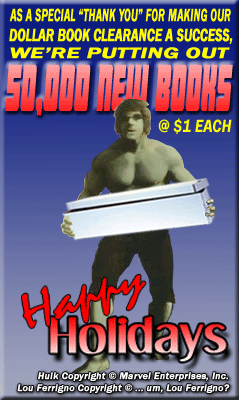 We hope you've enjoyed our recent round of "Monster Stock Clearance Sales"! Thanks to your participation, we should be able to move out the old Monster Stock and bring in some new inventory in 2005.
As a special "thank you," our owner has decreed that we put out 50,000 brand-new, never-before-seen-in-the-store dollar comics.
These new comics will be available until Christmas — after that, we're not entirely sure. The new books may get mixed into the Monster Stock and sold off to a dealer, or they may stay on as part of our new stock.
In either case, you get a giant new inventory to browse through during the holiday season! With any luck, you'll be able to find some books here that have eluded you in recent years.
When you get a chance, come down and peruse the new inventory. Our staffers are already breaking out their dusty old want lists ... !
Comic Club Meets Thursday, December 9
The Heroes and Dragons Comic Club does NOT meet tonight.
Instead, we'll be meeting next Thursday (December 9) to discuss Mark Millar's Elseworlds Superman opus Red Son.
Our meeting starts at 7:30 (just after closing) in the Heroes and Dragons Game Room.
For more on Comic Club, click here.
For more on Red Son, click here.