Hellblazer and Galactic In-Store Signing
Heroes and Dragons is pleased to welcome Doug Alexander and Sanford Greene as our special guests this weekend. The two young artists are celebrating new projects that will arrive in the store this Wednesday, August 27.
Doug Alexander debuts as the new semi-regular penciller of Hellblazer with this week's issue, # 187. In the two-part "Bred in the Bone," Doug's dark tones contribute to a story of John Constatine's niece Gemma — and her dealings with an evil entity from John's misspent youth. Doug's previous DC credits include JLA: Riddle of the Beast and Batman: Gotham Knights.
Sanford Greene is one our favorite guests, having worked on titles as diverse as Adventures of Superman, Planet of the Apes, and SpyBoy. Now he's debuting a brand-new title from Dark Horse's Rocket Comics. On Galactic, Sanford brings kinetic freshness to the tale of a boy caught in the crosshairs of an unbelievable destiny.
Both artists will be on hand Saturday to sign copies of their new books. Doug and Sanford will also be talking about their next projects and giving advice to aspiring artists.
We expect the artists from 1:00pm to 3:00pm this Saturday, August 30, but times have not been confirmed. Please call us at (803) 731-HERO (731-4376) any time after Tuesday for the exact times.
September Previews Files Now Available
It's time for a whole new batch of comics, toys, graphic novels, and merchandise! The Previews catalog for September has been posted in the Subscriber Tools section of heroesanddragons.com.
Starting this month, Marvel Comics is offering a special supplement to each issue of Previews. The Marvel supplement is a 99' comic-sized magazine featuring reviews and 22-page sneak peeks like those seen in Wizard.
To view the complete text of the Previews catalog and the text listings for the Marvel supplement, click here.
Golden Age Web Inventory SOLD OUT!
Yep, you read the headline right: Chris sold his entire Golden Age web inventory at the Wizard World Convention in Chicago!
As usual, he's hard at work building a brand-new inventory for our web customers — but in the meantime, we've taken down all the "For Sale" listings in our Buy & Sell section.
Stay tuned for further developments.
"Live with a Dragon Staffer" Contest
One year ago, John Boozer won our "Live with a Dragon Staffer" Contest — and now he's our new Back Issue Manager.
Times have changed, and now John is looking for a roommate. Preferrably a reliable non-smoker, but he's considering all interested parties.
If you're new to town or looking for a new roommate, drop John a note and let him know. You could be the next winner of our "Live with a Dragon Staffer" Contest!
CGC News
CGC has updated their online population report. more
Comics News
Entertainment Weekly's comics section is leaving the magazine and will now only be found in the EW subscriber supplement, Listen 2 This. So much for mainstream acceptance this year. more
CrossGen Public Relations Director Bill Rosemann has issued a statement about the company's failure to pay some of its freelancers. And, of course, there have been responses from the freelancers themselves. more and more
Later in the week, CrossGen CEO Mark Alessi talked to Jonah Weiland of ComicBookResources.com. more
Fleetway-Quality is relaunching 2000 AD Showcase as a reprint title for the American market. The first feature story in the new title will be Mike Carey's "13." more
IDW (Idea + Dream Works) Publishing is adapting another TV crime drama for the comics — The Shield comic will be written by Jeff Marriotte with art by Jean Diaz and covers by Tommy Lee Edwards. more
Peter David's Fallen Angel will be adding a "Suggested for Mature Readers" label beginning with issue # 3. more
Micronauts #11 will be the final issue of the Devil's Due series. According to king Devil Josh Blaylock, the series will move to another publisher and regain one of its original Marvel artists. Many are speculating that Future Comics will pick up Micronauts and put original series artist Pat Broderick back to work on the property that made him famous. more
The comics from The Matrix web site will be coming to the real world in October, when Warner Brothers publishes The Matrix Comics Volume 1. Volumes 2-4 are planned, but aren't a sure thing. If you want to see all of the ground-breaking web comics on your bookshelf, order Volume 1 today! more
Silver Surfer artist Milx is reportedly missing in action — the last we heard, no one from Marvel can reach him. As a result, Silver Surfer # 2 has been delayed until October. In other Milx-related news, IDW has chosen to replace the MIA artist with a newcomer named Chee on Steve Niles's upcoming Wake the Dead mini-series. more and more
Tom Derenick is the new artist on the Smallville monthly title. more
Joseph Michael Linsner's vampire Esque (from Angry Christ Comix and the first Cry for Dawn mini-series) returns for an all-new Christmas special this holiday season. more
Corporations are comissioning more and more comics to help explain and promote their products. more
The American Library Assocation is offering a new Sandman poster by P. Craig Russell to promote reading. more
And Nixon isn't the only one who can go to China. Marvel President Bill Jemas is there this week, looking for new opportunities for Marvel Comics.
Media News
Rob Worley is discontinuing his popular "Comics 2 Film" column at ComicBookResources.com. more
New Line Cinema plans to re-release the first two Lord of the Rings films prior to the opening of Return of the King, the final installment in the trilogy. Currently, New Line plans only a limited release for the encore showings, but that may change before November. more
Sharon Stone may play the villainess to Halle Berry's Catwoman in the upcoming feature film. more
Legal News
Metaphorically speaking, the jury's still out on Arkansas's Act 858 — a proposed law requiring retailers to cover 2/3 of the covers of magazines containing material "harmful to minors." And until the Attorney General settles a lawsuit challenging the vague wording of Act 858, the State of Arkansas has agreed not to enforce the law. more
Interviews Worth Reading
Coming Events
Lord of the Rings CCG League meets this Tuesday, August 26 at 4:00pm.
Our Warhammer 40K tournament starts at noon on Saturday, August 30. Bring $3 to cover your entry fee and a 1,500-point army. Prizes are supplied by Games Workshop.
Artists Doug Alexander and Sanford Greene will be our special guests on Saturday afternoon, August 30. For more information, see the top of this newsletter.
Site to See
We've all come across Marvel Comics from the 1970s with tiny square cut-outs in one of the pages — gaping wounds left behind when we (as short-sighted kids) mutilated our comics to get those treasured Marvel Value Stamps out the comics and into our collections! Now, thanks to the efforts of Rob A., you can enjoy the value stamps in all of their glory without having to cut up any more of those ' 70s treasures: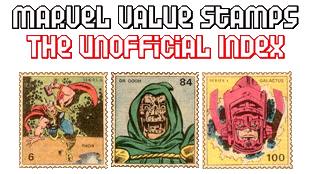 Correction
Several of you noted empty sections in last week's issue of Dragon's Breath. If you were one of the subscribers who had extra headers and inexplicable occurrences of the word "story" in your newsletter, please accept our apologies. Some copies of Dragon's Breath were sent before the template was cleaned up and made ready for mass consumption.
Question of the Week
... will return in a few weeks. We haven't forgotten your earlier suggestions, and we'll be soliciting more opinions from you as soon as we're caught up on our current projects.
In the meantime, feel free to send us suggestions using this form.