Dragon's Breath Welcomes a New Regular Feature
Dragon's Breath welcomes a brand-new feature this week — "Tug's Pick of the Week." For several weeks, our New Comics Manager has been asking for a forum where he can tell you all about the latest and greatest comics to arrive at the Dragon.
That's just the kinda guys we are — we don't want you to miss any good reading on our watch!
So take it away, Tug — !
Pick of the Week — DC: The New Frontier #1
By Tug Baker
After the initial success of James Robinson and Paul Smith's The Golden Age, Robinson planned on doing a Silver Age series with Howard Chaykin that, like Golden Age, would examine the characters of the time period with a modern age sensibility. Unfortunately, the project never saw fruition.
However, if it had, we may have never gotten DC: The New Frontier. The first issue of New Frontier takes place at the dawn of the Silver Age with a bit of a look back at the twilight hour of the Golden Age. After WWII, the optimism of our boys coming home falls into the paranoia of the McCarthy era. The Red Menace (communism, not a super villain) is sought out everywhere, including Hollywood and the super-hero community. The heroes are forced to register themselves (and their secret identities). The heroes must choose to go underground (Batman), quit (the JSA), or fall in line with Congress (Superman). But from this stagnation, new heroes are already being created – they just don't know it yet.
Darwyn Cooke gets the ball rolling quickly with this issue. What at first appears to be three separate stories about the Losers, Hourman, and a young Air Force pilot named Hal Jordan are connected in subtle ways, making for the beginnings of a great epic.
The book is obviously a tremendous labor of love for Cooke. It shows in every line of dialogue, every beautifully drawn panel, and even the sound effects. Cooke, whose work on Catwoman: Selina's Big Score was a big hit last year, has truly outdone himself here. DC: The New Frontier promises to be an epic whose size will only be dwarfed by the larger-than-life heroes who leap from its pages.
DC: The New Frontier, Book One is 64 pages with no ads and costs $6.95. (Sure it's pricy, but it's more than worth it. Just take a look at the back cover picture of Superman and Batman fighting. That in itself is worth the price of admission!)
For more of this review, click here.
Comic Club Reading Torso for February
Following our biggest meeting ever (to discuss Sgt. Rock: Between Hell and a Hard Place), the Heroes and Dragons Comic Club turns its attention to the genre of crime comics.
Like horror comics, crime comics were nearly wiped out by the rise of the Comics Code Authority in the 1950s. The genre was noticeably absent from American comics for decades — so long that a generation of comics readers came to associate "crime story" with film noir or gritty television dramas instead of titles like Police Comics and Crime Must Pay the Penalty.
But, like horror, crime eventually returned to the comic books. Torso, published by Caliber Comics in early 1998, was one of the first commercially successful crime comics since the Golden Age. For many readers, Torso also marked the arrival of one of the 21st Century's first superstar comics writers, Brian Michael Bendis.
Bendis and co-writer Marc Andreyko's tale straddles the 40-year gap between 1956 (the year Crime Must Pay the Penalty was cancelled) and 1998 with deft attention to the Golden Age and the modern era of comics story-telling. Torso relies on tried-and-true crime conventions, and its central narrative is one of legendary G-man Eliot Ness, "based on a true-life story" from his post-gangbusting career in the 1930s. In theory, it's the kind of story that would've found a perfect home in the lurid EC comics of 1955 — except that the "true-life" element is a little too lurid, a little too grisly for even those controversial comics. Ness's investigation involves dismembered and decapitated torsos that periodically wash ashore on the banks of Lake Erie sound in Cleveland's Kingsbury Run district.
In real life, the "Torso Murders" were never solved. Their perpetrator became America's first documented serial killer, unknowing ancestor to 20th Century boogeymen Ted Bundy, John Wayne Gacy, and even the fictional Hannibal Lecter. But in Bendis's graphic novel, two-fisted crime veteran Eliot Ness comes face to face with the real killer — providing readers with a seamless (if not easy) transition from the crime comics of the '50s to the new crime comics of the 21st Century.
RESOURCES
Torso is available now, with a retail price of $24.95.
($19.96 when you show your HDCC membership card at the counter!)
H&D Comic Club will meet to discuss Torso at 7:30pm on Thursday, February 5. If you're not familiar with Comic Club, this is a great chance to meet our members and learn all about the program. If you decide to join, there's a $20 per year membership fee, which also entitles you to a year-round 20% discount on graphic novels.
Come Play in Our Expanded Game Room
Have you visited our game room lately?
If you've been paying attention, you may have noticed that we've expanded the Game Room. Our playing space is now 35% larger — more room for tabletop gaming, while still leaving plenty of space for card games or a relaxed read while your significant other browses through the store.
The Game Room is open during regular store hours every day, but the best times to get in on the gaming action are Saturday and Sunday. Bring your miniatures, your cards, or your sourcebooks and come on down!
Coming Events
Lord of the Rings CCG League meets this Tuesday, January 20 at 4:00pm.
Legend of the Five Rings CCG tournament this Saturday, January 24 at noon.
Big Apple Convention this Saturday and Sunday, January 24-25 in New York City.
Site to See
According to Matthew McClintock, McClintock House is a testing ground for Web design and programming. Since function is more important that form, McClintock has filled the site with the handiest possible content — a virtual index of his physical home: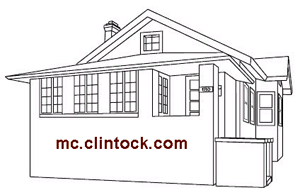 Chris Ware fans, take note: There are some wonderful Acme Novelty-related links on the McClintock House Web page, and an original Rusty Brown page hangs in McClintock's hallway!