... Several Hours Later
Ah, here we are — the long-promised, features-packed return of Dragon's Breath to its proper form!
Quick news blurbs are fine, but several of our readers are getting antsy for an old-school issue of Dragon's Breath. You know — Tug picking comics, the Toyman griping and gushing about his new action figures, a "Site to See," maybe even a crazy contest or two. Newer readers may not remember a time when he had both a "Pick of the Week" and a "Toyman's News & Reviews" in the same issue.
This is what you've been waiting for, so grab a low-carb cola and get comfortable — DB comin' at ya!
A Free Comic Book Day "Thank You"
Let's start off with a big "thank you" to everyone who participated in last week's Free Comic Book Day. Despite the opening of Spider-Man 2 occurring a little earlier than the comics industry had planned, this year's FCBD was our most successful yet.
If you made your first visit to H&D on Free Comic Book Day, tell us what you thought of the experience. Which comics did you pick up for free? Which ones did you like the most? The least?
Previews Orders Due Today
If you're a subscriber who hasn't submitted his Previews order for July, now's the time to do it. Our order deadline is Saturday, July 10 at midnight.
Click here to submit your July Previews order.
If you know all about Previews, skip ahead to our next section and read all about the Nanathon. Otherwise, here's a quick primer for everyone who's scratching their heads and muttering "Previews order? Wha —?!":
---
Previews is the official catalog of Diamond Comic Distributors, H&D's largest supplier of new merchandise (including comics, toys, and DVDs). We can get you anything offered in the Diamond catalog, but you must get your orders in to us before our order cut-off date at Diamond.
Each issue of Previews covers merchandise arriving two months in the future — so the current (July) issue includes all the comics and goodies the Dragon will be stocking in September.
You can pick up the full-color, 500+ page Previews catalog at Heroes and Dragons for only $4.50 each month — or you can download the searchable text file on heroesanddragons.com for free. During the last week of every month, we post the text file (along with several other nifty ordering tools) on the web site. To find them, just go to "Subscriptions > Download Previews Files" using the main menu at the top of heroesanddragons.com.
Once you've made your purchasing decisions, you can submit your Previews order to us in the store or by using our online form. (Look for "Submit Previews Order" under the "Subscriptions" menu.)
Then all you have to do is wait until September for your goodies to arrive. See how easy it can be?
---
Please Don't Let Them Kill Nana
Astute visitors — at least, those who don't use a pop-up blocker when they surf the web — have noticed the "Nanathon" pop-up on our home page.
Nanathon is the fund-raising brainchild of Jason Yungbluth, creator of the offbeat humor comic Deep Fried. Often political, sometimes disturbing, and always funny, Deep Fried delivers some of the best yuks in comics today. If you don't believe us, check out WhatIsDeepFried.com.
But it takes money to make Deep Fried. Or so Yungbluth says.
So, in an effort to raise awareness of the Deep Fried comics and web cartoons, Yungbluth is pulling a Jason Todd. He's threatening to kill off one of Deep Fried's most beloved and harmless characters, dear old Nana, unless he sells enough comics, t-shirts, and swag by August 1.
Yungbluth's goal is a modest one — saving Nana from certain doom will cost only $1700. But if he can't raise the money by August 1, it's lights-out for everyone's favorite Flash-animated grandma.
Did we mention that Nana's death will likely be gruesome and painful? Or that everyone who makes a purchase between now and August 1 will be eligible for cool prizes (including a walk-on appearance in the Nanathon cartoon)?
Dial 803 for South Carolina Comics
Mark your calendars! An anthology of brand-new stories from the heart of Dragon Country — that's South Carolina for you non-locals — is coming your way on Wednesday, July 28.
This one-shot comic, titled 803, features stories by long-time fixtures of the South Carolina comics scene as well as fresh new talent.
Among the veterans are Vineyard Press publisher Eric Woodard (A Stranger's Tale), CCG and RPG painter Anthony Hightower (Legend of the Five Rings), and Artxilla's Sanford Greene (Galactic), who provides the cover.
Newcomers include Steven Prouse (K.I.P.) and H&D's own Chad Bowers.
Here's a first look at the story line-up:
American Empire
written by Chuck Brown
art by Dre with Loki Dolza
Dr. Impossible
written by Chad Bowers
art by Chris Nye
with Loki Dolza and Anthony Hightower
Graffiti
written by Steven Prouse
art by Anthony Hightower with Clayton Brown
Hand Me Downs
written by Eric and Greg Woodard
art by Eric Woodard with Keith Barnett
Pre-order your copy of 803 for only $2.95 by e-mailing Tug or adding it to your sub (if you're a subscriber).
If you live outside South Carolina, you can also pre-order directly through eBay.
Pick of the Week — DC Comics Presents: Batman #1
By Comics Manager Tug Baker
This week's "Pick" goes to DC Comics Presents: Batman # 1! This book is the first in a weekly series of one-shots paying homage to the late, great DC editor Julie Schwartz. If there was any one person who could be called the Father of the Silver Age of Comics, then Julie would be that man. He created exciting new characters, did revamps of old characters, and came up with concepts that revitalized the industry. One such device of Julie's was the imaginative covers used to catch the readers' eyes and draw them into the story inside.
With this in mind, DC has taken some of the most famous of Julie's cover concepts and handed them over to today's very best artists and writers. There will be eight titles in all — that's one a week for the next two months, for those keeping score — each containing two stories with two different takes on each classic cover.
The first of these tributes is DC Comics Presents: Batman # 1, with a cover by Adam Hughes that pays homage to Carmine Infantino and Joe Giella's cover for Batman # 138.
In fact, DC has even gone so far as to get the art team of Infantino and Giella to draw the first story in the book, written by Geoff Johns. The second tale is written by Len Wein with art by Andy Kuhn.
Both these stories are terrifically done — and if this issue is any indication, then the DC Comics Presents tribute books will be a series that any fan of DC Silver Age comics will want to have in their collection.
For a complete checklist of the DC Comics Presents one-shots, click here.
For more of Tug's recent Picks, click here.
Toys of the Week — Kill Bill Series 1
By The Toyman
Kill Bill! Action Figures! What more could you ask for? NECA has apparently managed to get on Tarantino's good side — something other companies either couldn't do or didn't put enough effort into. Finally we have hints at a line of Pulp Fiction figures. Sure, the Geoms are nice, but everyone is waiting for the real deal. To hold us over until then, we have the Kill Bill figures. A great line of figures, even without O-Ren. But how am I ever going to afford an army of 88s ... ?
I've heard a lot of debate over the sculpts on this line. A lot of complaints have been tossed out that The Bride looks bad, that Go-Go is unattractive — maybe some people need to re-watch the movie. Go-Go has a giant nose in the movie and on the toy. The Bride looks like Uma Thurman. Don't fault NECA for making their toys look like unattractive stars. In my eyes, the sculpts are almost perfect — especially considering NECA's desire to do things the hard way and steer clear of the Real Scan technology. (Or at least fix what has been scanned.)
The Bride is sculpted in her yellow jumpsuit. Posed in mid-fight, she looks great up against the 88s. The folds and wrinkles in her outfit are all there. She looks like Uma — maybe a little off from some angles, but without the real thing sitting next to me to compare, I can't complain. The only thing that bothers me is her hair. It doesn't seem to flow right. It could be worse; it could be rooted hair.
Go-Go looks just perfect — from her menacing look to her schoolgirl uniform and even to her white panties. (You know you wanted to know.) Her hair is a little off, like the Bride's, but maybe it's just the mid-action pose NECA is trying to capture.
The arms and heads of the Crazy 88s are removable, just like in the film. There can be limbs flying everywhere, recreating everyone's favorite scene. And if you want to have even more fun, you can hook up the included tubing and bulb, fill it with "blood" (actually disappearing red ink), and squirt blood from the newly severed limbs.
The Bride and the 88s also come with a blood-splattered sections of the floor from the House of Blue Leaves. They fit together nicely for a wonderful effect when posing your figures. There is a variation of the Bride with a snow base that was originally supposed to connect to O-Ren's base. Since we have no O-Ren — thanks, Lucy! — the second base, while well done, isn't as entertaining.
Click here for the Toyman's full review, including photos and news bits!
Win the Secret-HQ!
Back before Chad was an up-and-coming comics writer, we used the Dragon's Breath to find him a new roommate, in the now-infamous "Live with a Dragon Staffer" contest.
Now we're doing it again. Sort of.
H&D webmaster Scott Simmons is moving his home and "Secret-HQ" offices across town. (Now you know why we've had such short-and-sweet issues of Dragon's Breath recently!) But before he leaves, Scott wants to advertise that his once-highly-coveted apartment is now available!
Located less than a mile from Heroes and Dragons, the original Secret-HQ is just under 700 square feet with one bedroom and one bath. There's a fenced-in backyard with covered porch and a spacious utility building. The apartment is equipped with washer/dryer connections and all the basic appliances (oven, refrigerator, dishwasher). Of course, it's DSL-ready and can be configured to house a comic-book collection in the walk-in closet.
The apartment is located in a small, privately-owned quadruplex just minutes from I-20, I-26, Dutch Square AMC Theaters, Dutch Square Mall, umpteen-million restaurants and shops, Dutch Fork Post Office, and the Richland County Public Library. (In a nutshell, you barely need a car over here.)
Scott's lease is up on August 1, but the apartment may be available slightly earlier. If you or someone you know is interested, contact Scott with a phone number where he can reach you.
(Yes, despite our liberal use of the word "win," you will have to pay rent and a security deposit.)
Coming Events
Mage Knight tournament this Saturday, July 10 at 1:00pm.
Call us at (803) 731-4376 for complete details.
Lord of the Rings CCG League meets this Tuesday, July 13 at 4:00pm.
803 # 1 goes on sale Wednesday, July 28.
San Diego Comic-Con International is coming July 22-25.
Site to See
Forget "Live in Your World, Play in Ours" — New York University's graduate telecommunications department is taking games out of the computer and television and putting them onto the streets with "PacManhattan."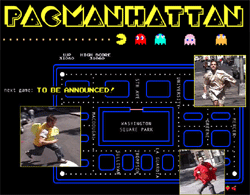 The live-action game, which replaces the computer backdrop of Pac-Man with the bustling streets of New York City, is a study in transference of learning from a virtual environment to a real one. It's also a cultural phenomenon.
Learn more at http://PacManhattan.com.