Rewards Program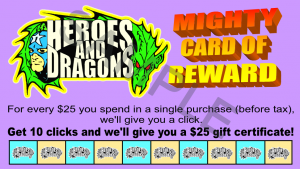 For every $25 you spend in a single purchase (before tax), we'll give you a click.
Certain products or product lines may be exempt from the Rewards Program, to be determined at the discretion of Heroes and Dragons.
Clicks will not be given out for purchases made with store credit or for purchases made on store-wide sale days.
$25.00 Reward Certificates cannot be redeemed during store-wide sale days.
The card cannot be combined with other cards to reach a total of 10 clicks.
Cards with 10 clicks can be redeemed for a $25.00 gift certificate good on any product in the store.
The card is non-transferable and cannot be redeemed for cash at any time.