Back Issues
Heroes & Dragons carries in our store one of the largest selections of back issue comics to be found anywhere and at a price point that is hard to beat! They are separated into the following sections: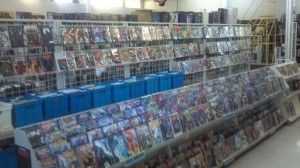 KID'S COMICS - We carry both comics and graphic novels from Marvel, DC, and Independent publishers specifically made for kids. We carry titles ranging from Archie, Avengers, Batman, Sonic The Hedgehog, Spider-Man, Superman, Tiny Titans, and many more. All these are cover Price.
MAGAZINES - Remember all the great magazines from the 1960s through the 1980s? We carry a wide variety of them! Types of magazines we have in stock include everything from comic-related fanzines, horror & science fiction, to toy related. Titles include such classics as Creepy, The Savage Sword of Conan, Star Wars Insider, Vampirella, and many more…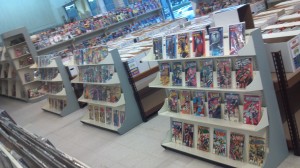 RECENT ARRIVALS – If you are looking for a new comic from 3 months ago but less than a year old then this section is for you. After our new comics leave our 48 ft. long new comics wall they are placed in the Recent Arrivals section. All are priced below cover at only $2 each!
ESOTERIC COMICS – Maybe you are looking for older comics that are not made by Marvel or DC from the 1940s through the 1970s like Classics Illustrate, Donald Duck, or Zorro; then this is your area to check out. A sampling of the publishers represented in this section are Archie, Dell, Gold Key, Harvey, Quality and many more.
MAIN STOCK - This section consists of Marvel, DC, and Independents from 1955 (Silver Age) to a year old (see recent arrivals for newer back Issues). We have a large variety of titles from the Silver and Bronze Ages in this section, and all at a great price point! Read on, true believers…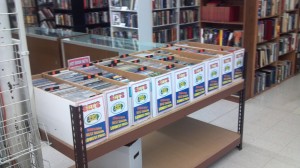 All of the above back issue sections with the exception of the Kid's Comics (which are all cover price) are priced at $2, $5, or $10 each. We also offer a volume discount once you buy 10 or more back issues of an additional 25% off and an astonishing discount of a further 50% off for purchases exceeding 100 or more back issues. You may mix and match the $2, $5 and $10 price points to achieve these discount tiers too!
We also have several wall displays of more collectible back issues priced from $10 to $25 in one section and $25 and up on our main back issue display wall.
Be sure to check out our Vault Gallery for more information about our Extensive inventory of rarer and more expensive back issues. We have over 25,000 Golden, Silver and Bronze Age comics and magazines in stock. Also, more esoteric comics like Undergrounds and fanzines are available as well.
One last thing, our Online Store has even more great back issues and is a completely separate inventory than the Vault Gallery and the store!